Monoprice select mini 3d printer with heated build plate review
Monoprice Select Mini Review 2022
We reviewed and tested the Monoprice Select Mini 3D printer, and here's why we liked it so much! You'll want this budget 3D printer too after reading this!
By Justin Evans
4
See Price
Let's say you're in the market for a budget 3D printer. It's tough: there are models that are vastly overpriced, models that have to be manually assembled from parts, and some that simply aren't good enough to justify even a very low price. What if you saw a printer far less expensive than the rest? Would you trust it?
Maybe you should. We're talking, of course, about the Monoprice Select Mini. It's an absolutely tiny printer designed for people looking to explore the world of 3D printing, without breaking the bank. So how does it hold up? Let's find out!
| | |
| --- | --- |
| Filament Diameter | 1. 75mm |
| Extruders | 1 |
| Supported Materials | PLA, ABS, HIPS, PVA, TPU |
| Connectivity | USB, SD Card |
| Printing Speed | 55mm/s |
| Build Volume | 4.7 x 4.7 x 4.7" |
Table of ContentsShow
Design
This printer's design is about as simple as they come. It has a single extruder, and prints onto a heated bed. The build area is, as you'd expect, fairly small – roughly the size of a can of Coke. Still, this is about average for a printer in this price range, so there are no complaints on this front.
Since this printer is designed for beginners, we were pleased to see that it ships fully assembled and pre-calibrated. In fact, thanks to the four-post leveling system, you shouldn't have to calibrate it too often. Instead, you can focus on the fun part: actually printing things.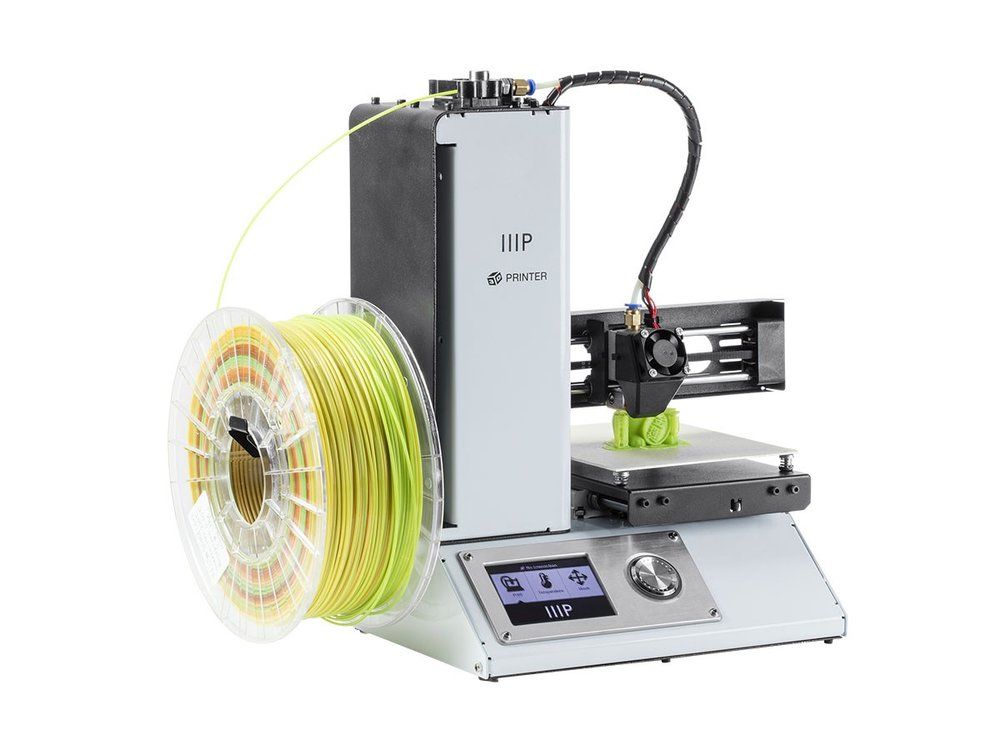 You can control this printer either with a PC or directly, using the built-in screen to select models for printing. There's also a USB port and SD card slot, and the printer actually includes a USB stick with models so you can get printing right away.
Printing
The first thing you should know is that the Select Mini is slow. Its top speed is about half as fast as its rivals, and worse, it tends to fail when running even at that. You'll be far better served with a slow and steady approach. This seems to create the most consistent, high-quality models.
Now, bear in mind that this is a budget 3D printer. Despite this, we found its prints come out looking pretty good! Sure, you can still see the layers, and intricate details aren't replicated all that well, but with a little patience (and post-processing), you'll find you can actually do quite a lot with the Select Mini.
Budget 3D printers tend to have one characteristic in common: lack of versatility. You can expect to print with PLA, maybe ABS too, at best.
Incredibly, the Monoprice Select Mini supports both of these materials, as well as HIPS, PVA, and TPU. It's not even limited to using a proprietary filament, so you can really go wild.
Features
Part of this printer's appeal is its simplicity. As such, it doesn't have many advanced features to speak of. Rather, it tries to make things as easy for new users as possible. Take software, for instance: it works with Cura, Repetier, Simplify3D, and most other popular modeling or slicing programs.
As you grow more comfortable using a 3D printer, you might want to add some upgrades. The Select Mini is perfect for this, since its inner workings are easily accessible, and its firmware easily flashed. In fact, we've found guides for everything from changing the hot end to adding wireless functionality.
If you've used a 3D printer before, it's unlikely that this model will blow you away. It's aimed at beginners and has a price point to match, after all. However, if you're completely new to printing and just want something to tinker with as you learn, there are a few models better than this one.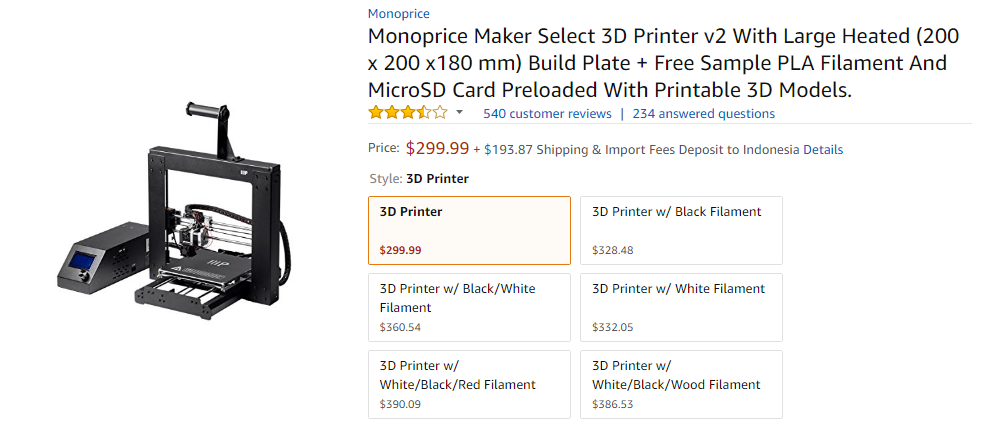 Cost
So how much do you think this printer costs? Brace yourself – it actually retails for around $190, making it among the cheapest 3D printers we've seen. Now, it's not available directly from Monoprice anymore since they've released the Mini v2 for the same price. However, it can still be picked up by third-party retailers.
The freedom to use third-party filament means you can keep your material costs down. Evidently, if you want to print often, this will increase to some degree, but since there's no support for exotic filaments, things shouldn't get too out of hand.
This printer is perfectly priced and has enough versatility to corner the low-end market. Frankly, we're amazed that this isn't the go-to recommendation for people looking to get into 3D printing for the first time.
Support
Despite its low prices, Monoprice offers a 30-day money back guarantee on all its printers. Once you've committed to keeping the unit, a year-long limited warranty takes effect.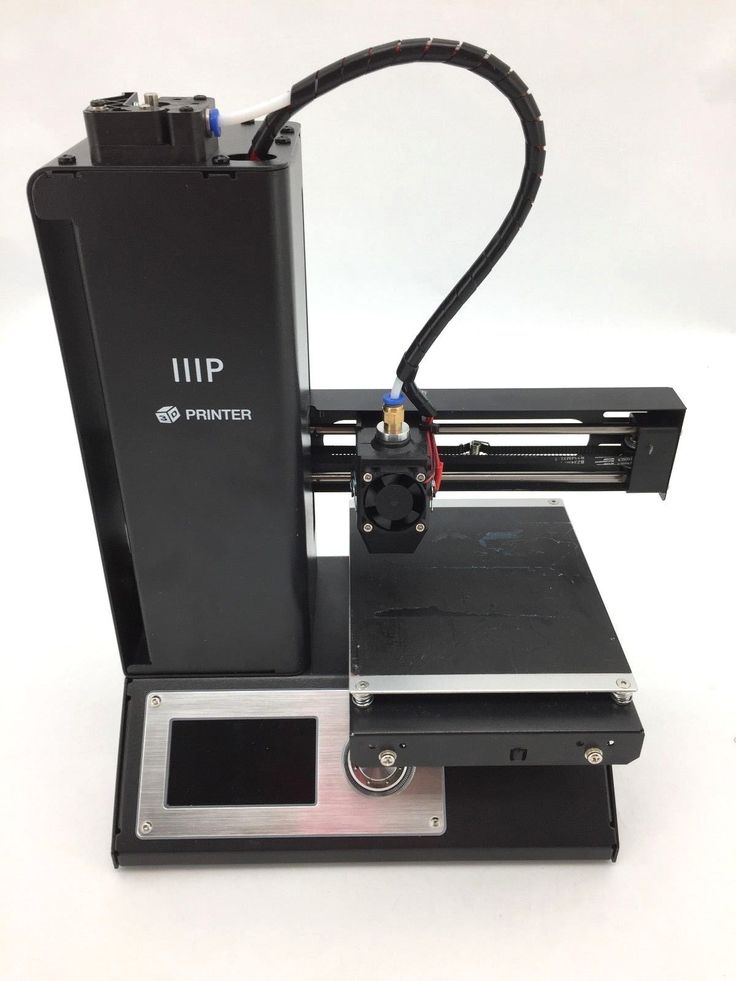 This is pretty good coverage, especially since there's no risk of breaking anything during assembly.
On the other hand, Monoprice only offers basic troubleshooting tips and 3D printing tutorials in its support section. You can use the ticket system, email, phone, or live chat to get more detailed help. Our only issue is that the returns link only works on some pages, throwing an error on others.
Honestly, this level of support was unexpected. Too often, low-end 3D printers try to sell their product and then wash their hands of it. That's clearly not the case with Monoprice, and for that, we applaud them.
Robo R2 Review
Monoprice Select Mini Review (V2) 2022
As technology improves and designers and manufacturers re-invent 3D printers, the cost of these machines continues to become more affordable. The $600 price tag that brought excitement to budget 3D printers has now subsided. So cheap has the price of 3D printers become that for about $200, you can get one and start your 3D printing experience.
One of the cheap 3D printers available on the market is the Monoprice MP Select Mini.
This price automatically attracts the questions: is this printer authentic? Does it work? How can it be so cheap?
Read on to see if this printer is worth buying.
Check the Monoprice MP Select Mini Price at Amazon
In this Guide
History of the Monoprice MP Select 3D Printer
Monoprice is a US-based technology company behind the Monoprice Mini 3D printer. The 3D printer was originally known as the Malyan M200 and was made in China. Monoprice private-labeled the printer and started offering it for a low price of $199. The Monoprice Select Mini is one of the cheapest 3D printers on the market.
Monoprice offers free replacement of their printers should the one you buy fail to work.
Unlike 3D printers like the Tiko, M3D, Trinus and OLO/ONO that basked in Kickstarter crowdfunding projects, this budget 3D printer made its way to a household name due to its cheap price.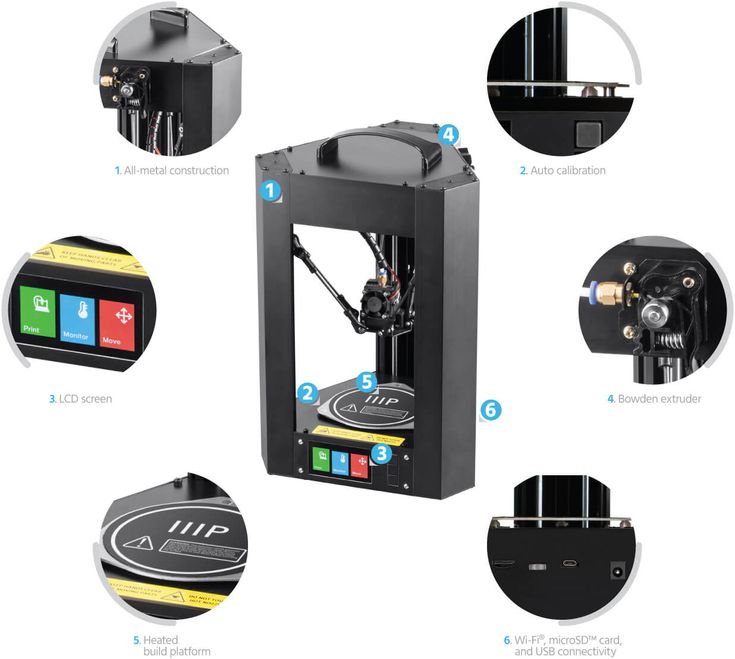 Unpacking and Assembling
Setting up the Monoprice MP Select is relatively easy and can be completed in 20 minutes.
The contents of the package include the MP Select printer, a hex key for leveling the bed platform, a micro USB cable and a microSD card with 256MB storage space, a dinky plastic spatula for scraping prints off the bed, an AC power adapter and a rectangular length of folded sheet metal. This is a spool holder which clips onto the main unit from the inside. Finally, there is the instructions booklet which also has a URL to the complete online manual of the printer.
The Monoprice package does not come with any filament. You should, therefore, order the filaments (1.75mm spool of PLA filament) with the machine or separately.
This printer has a full color LCD interface with a setup click-wheel. Its interface is user-friendly with clearly structured menus for the calibration process, preheating the hotend and load the filament.
You need to slide a sheet of paper between the printbed and the hotend to calibrate the printer.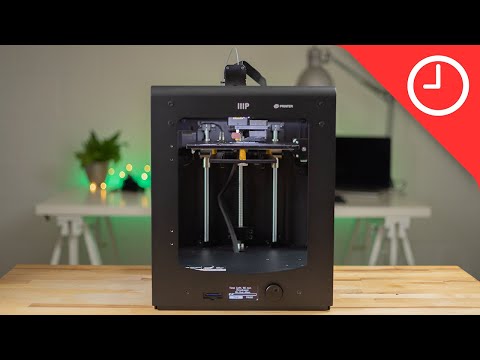 Use the hex key to tweak the springs at each print bed corner.
The heated bed is an aluminum plate with no protective covering, except for a sheet of build tape. The tape will degrade quickly with prolonged use. Therefore, it helps to have a roll of extra replacement tape.
Buy 3D Printer Build Tape on Amazon
Another item you should have is a generic power adapter. The AC power adapter available in he package tends to die within 12 hours of use. This can be frustrating if you havenít completed your print. So just get the generic adapter for about $30, just in case.
Design and Build Quality
The Monoprice Select Mini has a compact and versatile build quality. It looks like a tank but is sturdy and portable. The printerís electronics are housed in a folded sheet metal.
The Select Mini has a single fan for cooling the nozzle. This can limit the type of filaments you can use with this machine. The machine is a Cartesian style fused filament fabrication (FFF) printer.
One side of the printer has an arm that holds the print bed.
The extruder diameter of the hotend is 0.4mm and can heat up to 230 degrees Celsius. Replacing the nozzle can be a bit challenging though. The customer care team can help you in case you encounter any problems when trying to replace the nozzle.
The main pillar of the 3D printer has a spring-loaded, quick-release extruder with a steel gear. This design allows feeding the filament to the hotend using a Bowden cable setup. The machine has a Z-home micro switch that alerts it to stop lowering the head to avoid crashing into the build plate.
MP Select Mini has wireless connectivity. The control interface will alert you whether Wi-Fi has been activated or deactivated.
Features and Specifications
Build Area: It has a build area of 120 x 120 x 120mm
Print Resolution: The highest print resolution with this printer is 100 microns
Printig Speed: The printer has a printing speed of 55mm per second. It also has a heated build plate.
MicroSD card slot: You can upload files to the printer using the microSD card slot or a USB connection.
Slicing software: The printer is compatible with the Cura, Simplify3D, ReplicatorG or Repetier-Host. The printer can parse any standard GCode when youíre preparing your objects for printing.
Filament Type: The Monoprice MP Select Mini accepts any standard 1.75mm spool of ABS or PLA thermoplastic.
We love the MP Select Mini for its open ended filament and software use. Some 3D printer manufacturers like XYZ and M3D lock you into operational ecosystem by limiting the type of filament or software their printers can use.
See All Features at Amazon
Quality of Print
For our test print, we started with the pair of 3D models; an elephant and a cat, which were preloaded on the microSD card. We printed these with a resolution of 200 microns.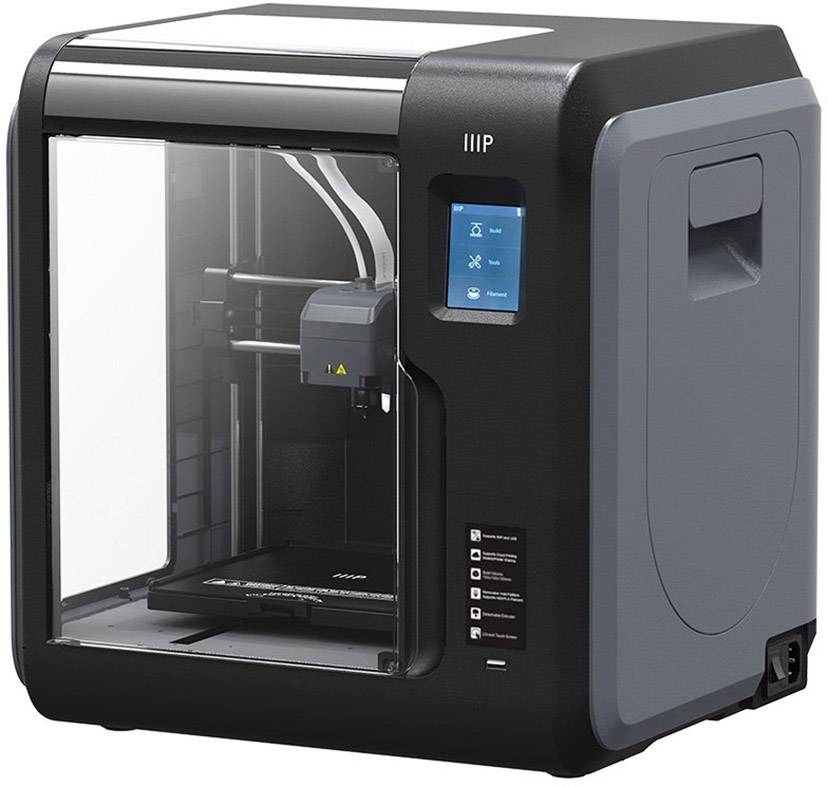 We did not have a big challenge when printing the elephant, which we did at 10% infill. We were impressed with how the printer handles things like overhangs and bridging. The retraction was also so tight that we had no stringing.
On the other hand, we were somewhat disappointed with the outcome of the cat. Although the details started out fine and clear, the final layers started misbehaving and repeated attempts gave the same results. The catsí ears and paws were all garbled up.
When we analyzed the GCode in Simplify3D, we discovered that the print head might be speeding up at the final layers (in limits of 55mm/s), which could have been the reason for the repeated failure.
The next test prints we did were for our own models. We used Cura, which is the recommended software by MP Select Mini, and used the settings from John Biehlerís review.
We printed one 3DBenchy at 100 microns and 10% infill and another at 200 microns and 10% infill. We then printed a low-poly MAOI bust with 30% infill.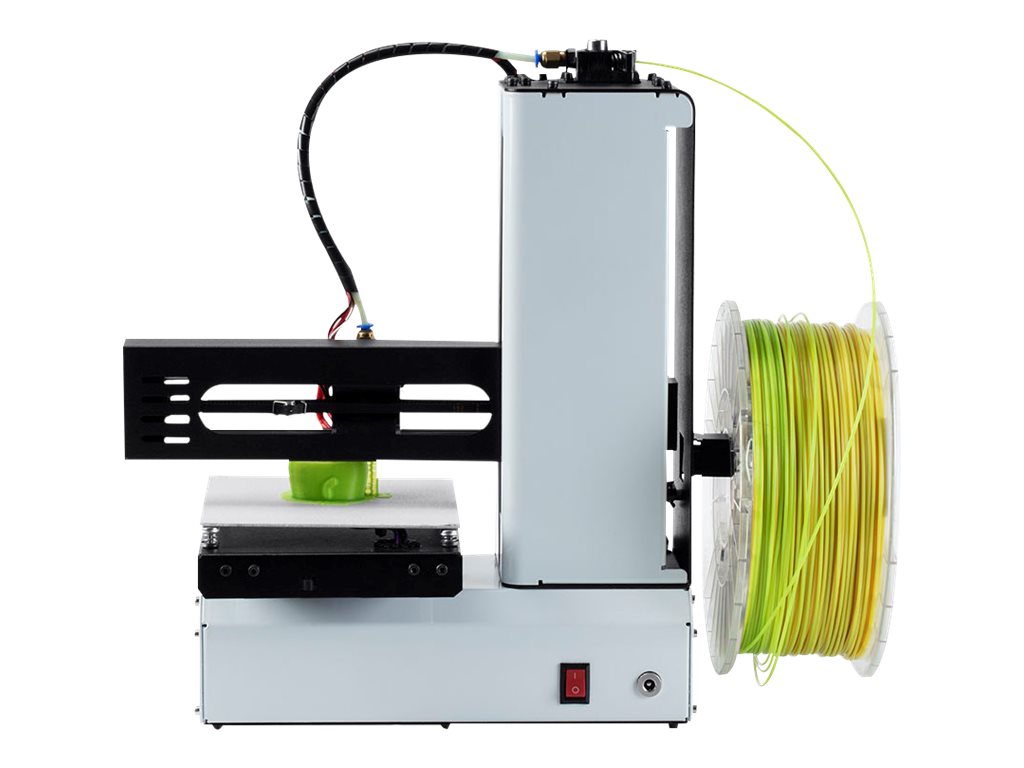 We also printed a V29 whistle at 100% infill and 200 microns, and a Graphica Mega Ghost at 10% infill and 200 microns.
Except for some noticeable ìtotterî of the layers on the prow of the boat, the 3DBenchy we printed at 100 microns was impressive both on the quality of the detailing and its compactness. The low-poly Maoi also had some overhang on the chin but the rest of the body was perfectly printed.
The model printed on 200 micron also had fine details of basic components. We were particularly happy with how the Graphica Mega Ghostsí long tongue perfectly printed with a smooth glide and the tongues hinge in one piece. Also, the chambers for the V29 whistle printed successfully and the whistle sounded as loud as we had expected.
Generally, the MP Select Mini didnít have major problems with overhangs and small unsupported spans. The layers remained fairly consistent along the Y and X axes. However, there were occasional appearance of zits and blobs, and
Failed prints were mostly seen when we limited the amount of adhesive glue on the printbed or when the filament spool snagged itself.
These two are as a result of an occupational hazard of FFF printing and not the Monoprice MP Select itself.
We also had a cavil with the hotend temperature. This always seemed to have a margin error of about 5 degrees Celsius between the control panel temperature and the set temperature. For instance, the control panel would hover between 223 and 227 degrees Celsius if we set it at 225 degrees Celsius.
MP Select Mini 3D Printer Upgrades
There is no official upgrade options yet for this printer. However, some manufacturers are considering hacking the printer to upgrade its performance. Some of the best fixes to date that have been listed by Hackaday include adding the traditionally accepted adapter for E3D V6 hotend, which is considered the standard for 3D printing desktop.
We think that the most urgent upgrade should be for fixing the temperature control. Hackaday has comprehensive instructions for tuning the proportional-integral-derivative (PID) controller for more consistent performance.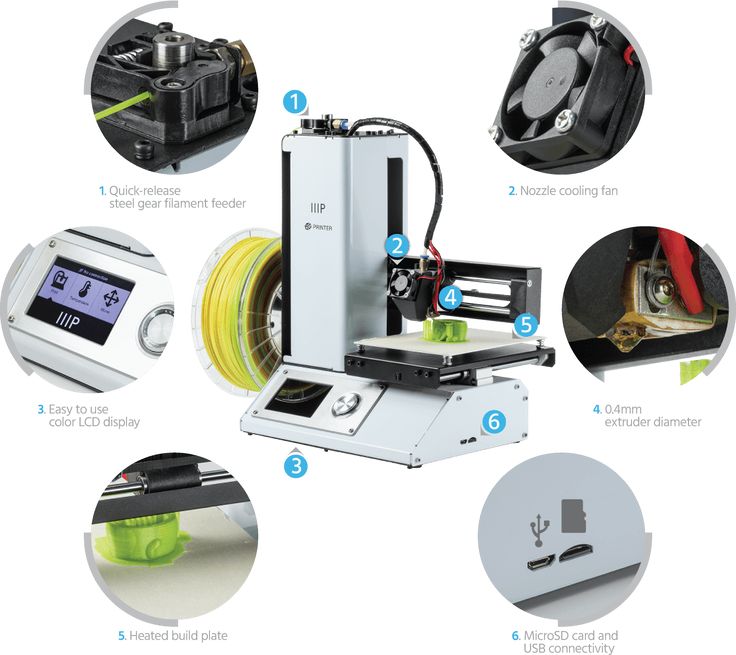 Also, if you badly need to activate your wireless connectivity, you could download and install the original Malyan M200 firmware. However, this could make your warranty void or even break your machine.
Monoprice Select Mini V2 vs V1
The Monoprice Select Mini V2 was brought into the market in 2017. This is an upgraded version of the Monoprice Select Mini V1. The two printers are essentially the same but the V2 has some new features, including:
Available in two colors: white and black
Larger, more tactile rotary dial for the LCD controls
An all-metal hotend that looks like that of the E3D V6 hotend
The build surface has been increased
Additional insulation on the build plate
Has a fan on the bottom to improve airflow across the mainboard
The Monoprice V1 is no longer available on the market as itís been replaced by the Monoprive V2. The V2 printer is available for the same price like the Monoprice V1 but has better features and performance.
Check Price of Monoprice Select Mini V2 at Amazon
Pros of Monoprice MP Select Mini
Sturdy design
Hackable
Reliable results at low speed prints
Works with standard filament type
Works with most Slicers
Easy to operate
Very affordable
Cons of Monoprice MP Select Mini
The wireless feature has been deactivated
Calibration can be challenging
Strange quirks
High Speed Prints become messed up
Hotend temperature is inconsistent
Power brick is faulty
Unprotected build plate
Monoprice MP Select Mini 3D Printer Verdict
Monoprice MP Select Mini is one of the cheapest 3D printers on the market (check current price). The device produces consistent prints, has a heated printbed, and itís very easy to use.
However, it has a difficult calibration process, the AC power brick provided is unreliable, thereís a discourse with variable temperatures and fails to print at high speeds.
Since this is a cheap 3D machine, the cons can be excused. Moreover, you can upgrade the unsatisfactory features; maybe upgrade the firmware, put down some glass for the printbed, and change the hotend. These changes will transform your machine and place it in the class of more expensive 3D printing machines.
All in all, the Monoprice MP Select Mini is, arguably, the best 3D printer for beginners. It is also one of the best 3D printers under $300. The quality of the prints it produces is desirable and any 3D enthusiast would love using it.
Conclusion
[wp-review id="45″]
The cheap price of this printer will make you look at its features and benefits from a new angle. Although its print quality cannot compete with the likes of BCN3D Sigma or Ultimaker 2+, it is still way above most 3D printers in its price range.
This is the best 3D printer for hobbyists or newbies looking to get into 3D printing but have a small budget.
However, if you wish to use it in a studio environment or any other small business, you will be disappointed with its the strange quirks and small build volume.
Overall, the Monoprice Select Mini printer is simple and easy to use. The printer provides a great opportunity for teachers, students and beginners to learn the basics of 3D printing and modeling. Moreover, its price is way low for the value it offers, which is similar to that of 3D printer that cost even three times more.
At a price of less than $200, this is one of the best cheap 3D printers available on the market.
Buy on Amazon
Overview of the budget 3D printer Monoprice Select Mini
3DPrintStory &nbsp &nbsp Reviews &nbsp &nbsp Overview of the budget 3D printer Monoprice Select Mini
Prices for desktop 3D printers continue to fall.
There were times when a $600 3D printer was a delight and a desire to order it as soon as possible, but technology does not stand still, and developers and manufacturers are looking for new options to lower the price even lower. This review is dedicated to one of the budget 3D printers costing about $200 - Monoprice Select Mini.
It is worth noting that this inexpensive model breaks established traditions and did not start with Kickstarter, unlike others like M3D Micro, Tiko, OLO / ONO and Trinus, which attracted the attention of consumers and investors thanks to crowdfunding platforms (by the way, this is really an effective development strategy for small startups, but there is often a mismatch between expectations and the final product).
Monoprice is different. This is an American company that did not particularly bother with the development and production of its own 3D printer, but simply imported the Malyan M200 from China, hung its logo on it and put an attractive price of $199.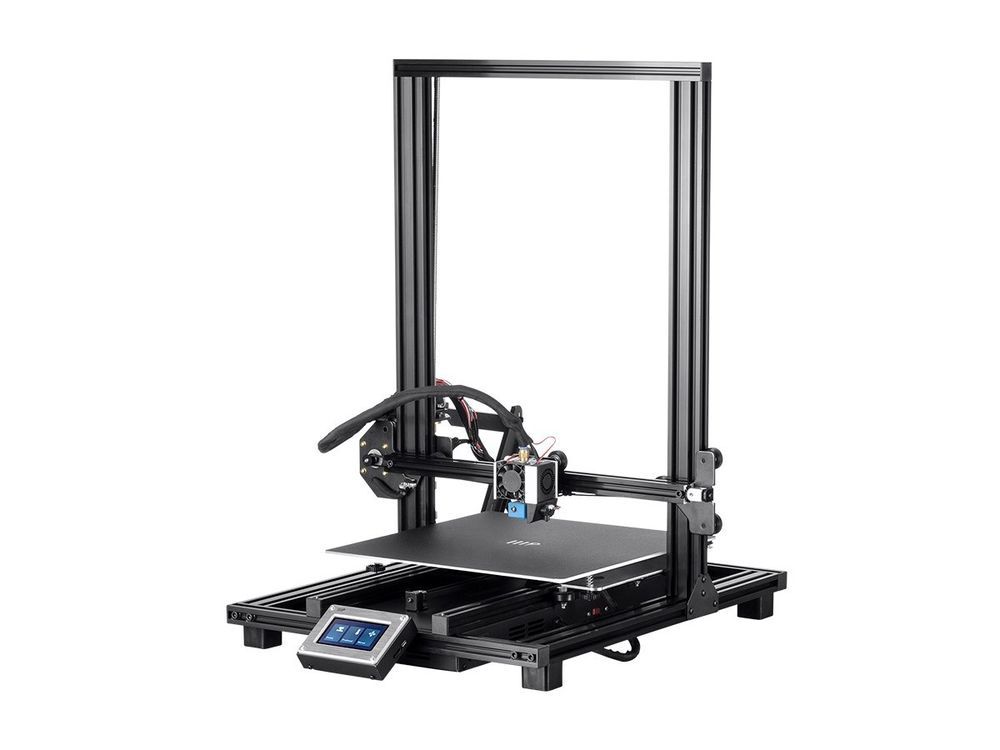 What if you got a defective 3D printer? No problem, send it back and they will replace it for you.
A reasonable question arises: can such a cheap 3D printer compete with Ultimakers or Printrbots? And is it even worth comparing? We will try to answer these and other questions in the review below.
Features Monoprice Select Mini
Available;
Robust design;
Easy to use;
Predictable 3D printing at low speed;
Works with any slicing software and standard 3D printing materials;
Amenable to improvements and upgrades;
I think we already mentioned the price?
Disadvantages Monoprice Select Mini
Difficult to calibrate;
Prints poorly at high speeds;
Print table not protected;
Faulty power supply;
WiFi module not active;
Unstable nozzle temperature;
Strange quirks...
Short Verdict
The Monoprice Select Mini is a great 3D printer for the price.
There is a heated table, easy to operate if you do not use high speeds, stable 3D printing quality.
Naturally, there are disadvantages. During operation, the temperature of the nozzle may change, and at high speeds, 3D printing errors occur. The calibration process takes a lot of time and the first time you have to tinker. Well, the most interesting thing is that the power supply burned out after 12 hours. But the latter, incorrect, can be attributed to an accidental marriage.
Despite all the shortcomings, the Monoprice Select Mini is a wonderful little 3D printer with many great features. In general, it performs in accordance with the information in the technical specifications, and the quality of the 3D printing even exceeded our expectations.
If you are not afraid to take it apart / put it back together, then you can do a few upgrades. The first thing to do is to replace the hotend and update the firmware to activate the WiFi module ( be careful! These upgrades have not been tested as part of this review and may damage your 3D printer! ).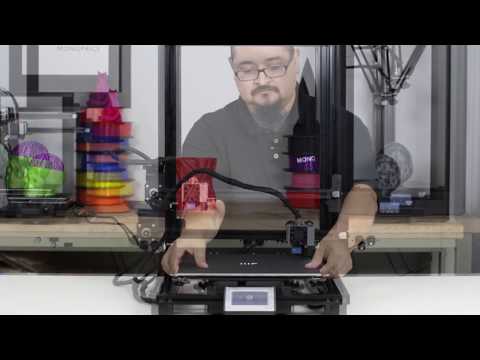 You can install the glass on the print table. Even with these upgrades, the price will still remain acceptable.
Would you recommend the Monoprice Select Mini as your first 3D printer? Yes, definitely.
Specifications and features Monoprice Select Mini
Monoprice Select Mini workspace 120 x 120 x 120 mm. The maximum resolution of 3D printing is 100 microns. Heated table. The 3D printing speed is 55 mm/s.
You can upload your 3D model via micro SD card or USB. The manual states that compatible slicing programs are Cura, Repetier-Host, ReplicatorG, and Simplify3D. This means that the Monoprice Select Mini recognizes the standard G-code, and this 3D printer is not tied to any particular software. Cura was used during testing for this review.
Monoprice Select Mini doesn't limit your media usage. You can print with any standard 1.75 filament using PLA or ABS thermoplastics. In our case, PLA plastic from ColorFabb was used.
These two points - the freedom to choose software and filament - are very important in this price range, because manufacturers such as M3D Micro and XYZprinting, which are Monoprice's main competitors in this niche, tend to use proprietary software and their own materials for 3D printing .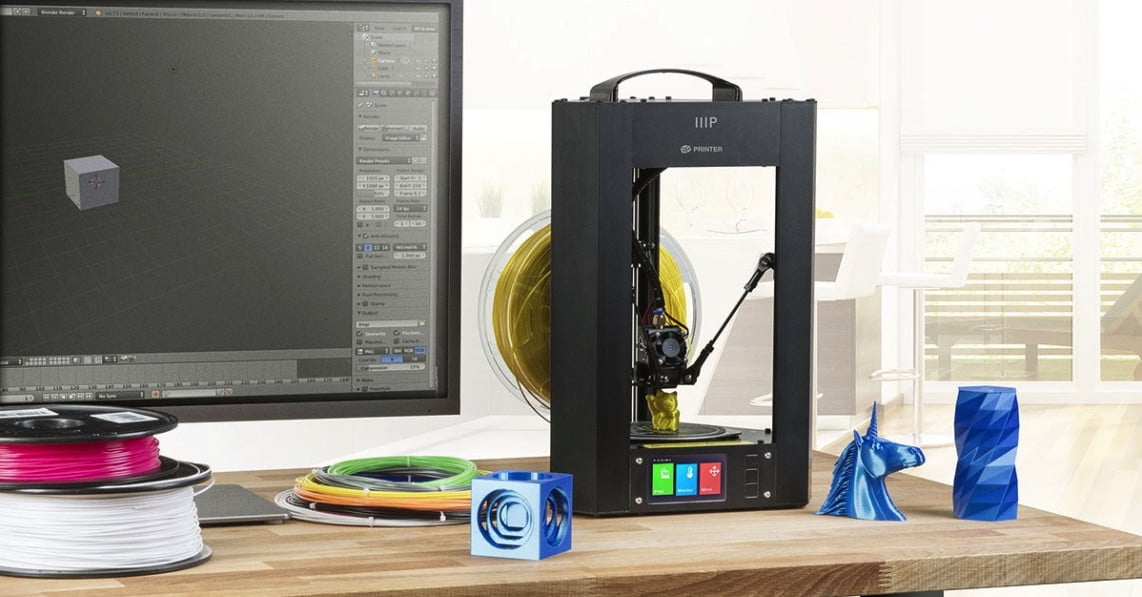 Unpacking and installation of the Monoprice Select Mini
Installation of the Monoprice Select Mini is quite simple. You can start typing within 20 minutes.
Inside the box you will find a 3D printer, a power supply, an imbus wrench for calibrating the table, a plastic spatula to scrape off the rest of the material from the table after printing, a 256 MB micro SD card and a micro USB cable.
One piece of paper contains a basic instruction and a link to a website where you can download the full version.
You will also find a rectangular steel sheet, the purpose of which is not clear at first. It turns out that this is a coil holder that is attached to the side of the main unit.
It is important to note that the Monoprice Select Mini kit does not include media test samples. So stock up on filament with a diameter of 1.75 mm.
You can use the wheel to adjust. The menu is well structured and easy to understand. You can start the calibration process, preheat the extruder and feed the filament.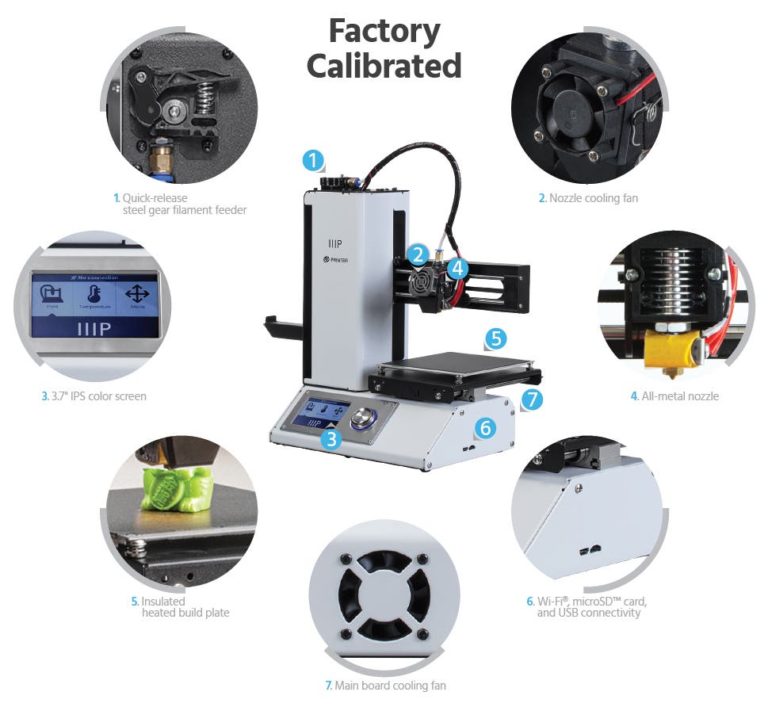 Calibration can be somewhat difficult. In theory, it should be carried out even before shipment, in production, and you should have a piece of paper between the nozzle and the printing table. If it doesn't work, then hex keys will come in handy here. It will be necessary to try and tighten the screws at the corners of the table so that the sheet still passes.
At this stage, the first important shortcoming of this model becomes clear. The printing table is made of aluminum and does not have a special protective film or coating on it. So stock up on blue 3D printing tape or install glass right away. Otherwise, the table will wear out very quickly and you will have to change it.
Well, one more bug that got out in our particular case. The power supply burned out after 12 hours of use. Foaming it was not difficult, but it was very unpleasant. You can probably throw it off for marriage, but in any case, be prepared for a similar turn of events.
Design and build quality of the Monoprice Select Mini
Very pleased with the build quality of the Monoprice Select Mini.
The construction is strong, reliable, with a steel sheet metal case that hides all the electronics. So don't worry about shipping damage.
This 3D printer uses deposition modeling technology. The classical Cartesian coordinate system is used. The design is similar to Printrbot Simple. One cooler is used to cool the nozzle. It is likely that problems may arise during 3D printing with unusual materials.
The extruder has a diameter of 0.4 mm and can be heated up to 230°C. We have not been able to test how easy it is to change, but in the long run this is an important factor as the nozzle will still need to be changed over time.
Monoprice Select Mini Print Quality
Pre-loaded models will already be on the micro SD card. They are supposed to be optimized for 3D printing on the Monoprice Select Mini. So before uploading our own models, we printed test ones.
The cat was printed first. The resolution was 200 microns. Everything went well until the last layers.
The upper part of the paw and ears could not be printed even once. There were 3 attempts in total.
G-code analysis in Simlify3D showed that the table accelerated up to 55 mm/s during the printing of the last layers. That is why the error was repeated. Quite a strange decision of the company - to provide a test model, which a priori will be printed with errors...
The second model that we printed is a test elephant. The resolution was also 200 microns and 10% infill. There were no problems! The result is excellent and you can see it in the photo below.
Next we moved on to our own models. We used Cura for slicing. This article reveals the excellent Cura settings for 3D printing on the Monoprice Select Mini and we used them.
We printed a classic 3DBenchy and Graphica model: a MEGA Ghost with 200 micron resolution and 10% infill, a V29 whistle with 200 micron resolution and 100% infill, and another 3DBenchy model with 100 micron resolution and 10% infill.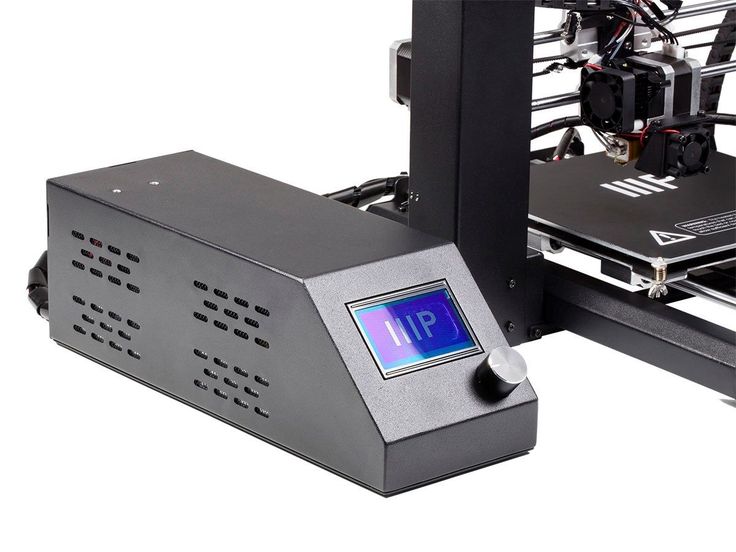 The simple 200 micron models worked well. There are no special problems with small protrusions and holes, although there are sagging. The layers are laid evenly along the X and Y axes.
The V29 whistle sounds as loud as intended, which means the partitions were printed correctly. The Graphica Mega Ghost with its long tongue also printed correctly. The hinge glided smoothly. The
3DBenchy at 100 microns worked well too. When you look at the photo, don't forget that this is a $19 3D printer.9.
We have noticed that most errors in 3D printing occur when the spool of filament clings or there is not enough adhesive coating on the printing table. This cannot be attributed to the shortcomings of the Monoprice Select Mini itself, since this is a global problem for all FFF printers.
During operation, the print table may block access to the control wheel. This point is implemented in the design is not very ergonomic.
Another disadvantage is that the nozzle temperature has an error in the region of 5°C.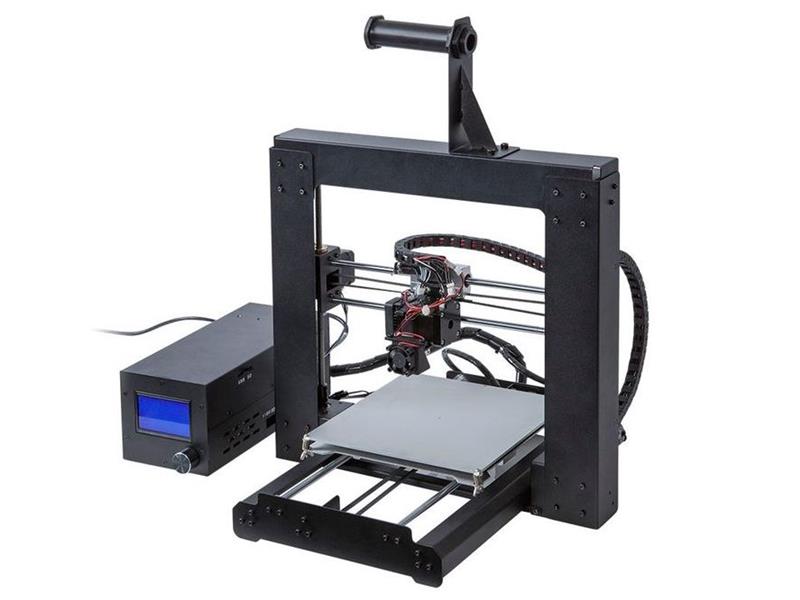 For example, when the 3D printing temperature is set to 215°C, it jumps between 213°C and 217°C on the control panel.
This does not particularly affect printing with PLA plastics, but may have a negative effect during 3D printing with materials that are more sensitive to temperature changes.
Finally, we printed a Low Poly Moai bust. We scaled the model by 50% and printed with 100 micron settings and 30% infill. It turned out well on the whole, the only small marriage is the influx of material on the chin. By the way, we observed the same effect when printing 3DBenchy with resolution settings of 100 microns.
Life hacks and upgrades Monoprice Select Mini
A few words about upgrading the Monoprice Select Mini 3D printer. There are no official upgrades! But here are a few options that you can try to implement on your own.
In our opinion, it is necessary to deal with the temperature of the extruder, make it more stable. For example, you can implement a PID temperature controller.
You can activate the WiFi connection by downloading the original Malyan M200 firmware. But be careful! This option has not been tested and there is a possibility that you may damage your 3D printer!
Monoprice Select Mini Summary
After testing the Monoprice Select Mini, this is one of the best 3D printers you can buy for $200.
But it's important to realize that the print quality can't be compared to the Original Prusa i3 MK2 or LulzBot Mini. Not to mention the more expensive models.
If you're looking for a small business 3D printer or just high-quality 3D without bugs, then the Monoprice Select Mini is not for you. In addition to the print quality, you will obviously not be satisfied with periodic bugs and a small workspace.
But if you are just starting to explore the world of 3D printing, then this is a great choice and a good alternative to the Chinese Anet A8 3D printer.
The Monoprice Select Mini has some drawbacks, but it's still a great option for learning and just having fun.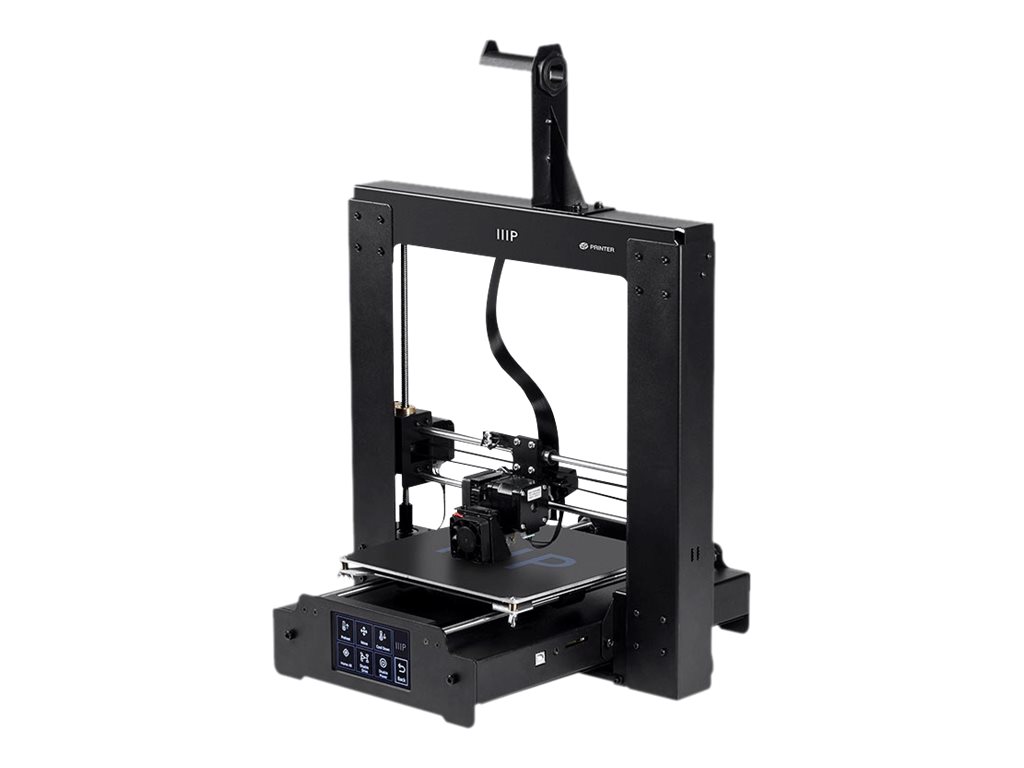 It's easy to use and print quality rivals more expensive models.
Top 5 3D printers under $500
3D printing technology is gradually changing the production of various products that we use on a daily basis. They work by adding materials layer by layer. According to one of the videos from the Mashable channel, these machines not only allow the creation of complex parts, but also reduce the time and cost of production.
These printers, which were originally only available for industrial production, are now offered in highly consumer-friendly forms to bring the technology closer to all types of people. For just $500, anyone can now own a unit for personal and small business purposes.
In the price range shown, the most common type you will encounter is FDM or FFF. This will allow the use of durable thermoplastic materials such as PLA, ABS and PET. The most common applications for FDM printers include, but are not limited to, electrical housing, design and fit testing, fixtures and fittings, and investment casting patterns.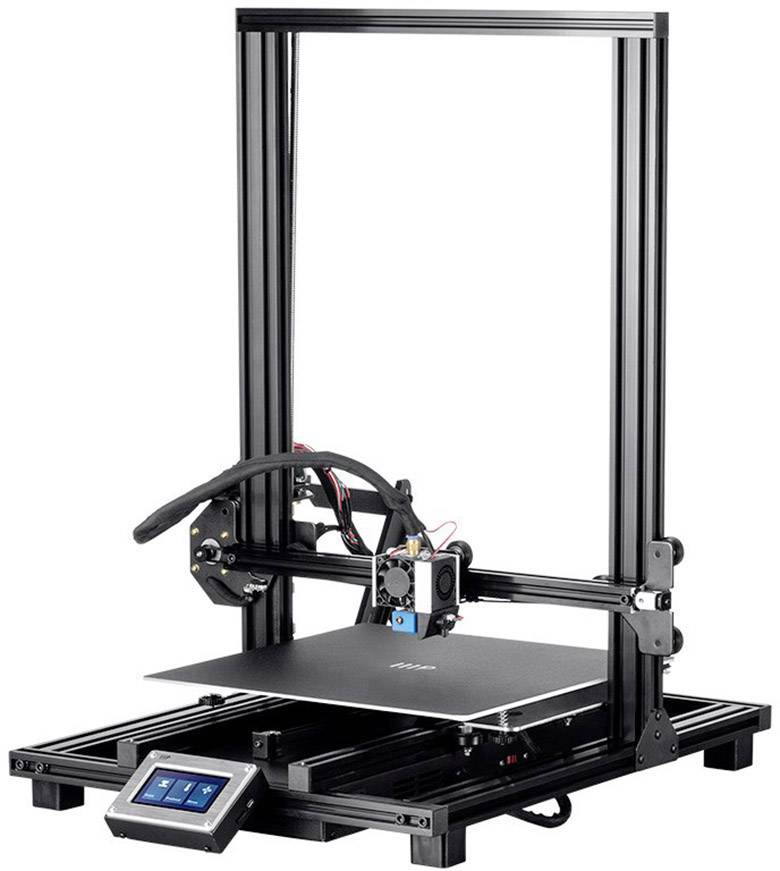 It's not as precise and complex as the SLA printers we love too, but FDM seems to be great for printing large and simple parts.
Printers under $500 may be too limited when it comes to the features they can offer. However, most of them are making cutbacks, which means they are still quite capable of doing their job.
Whenever you're looking for one, you should pay attention to the key features of the printer. This includes the machine's print speed, build volume, and compatible fibers. The Creality Ender 3 Pro printer model will fit most of your needs with its quality build and great features. Some of them are a removable heated magnetic bed and significant improvements in the Y-axis.
There are other amazing options on the market, such as models made by top brands such as Anycubic, FlashForge and Monoprice. However, choosing a 3D printer under $500 can be a daunting task. So, to help you make a purchase, we have provided five of the best 3D printers under $500 to provide you with the most helpful information before you buy.
Here is a list of their latest sales on Amazon. Just click the buttons below and get the best prices we've been looking for!
2. 3D printer Anycubic Mega S
Detection sensor
TIT PIETICE
0 more compatible
3. 3D printer Crealy Ender 3
Unique design of the system

Shtepsel fork with a fuse to avoid heat exhaust

220 x 220 x 250 cu. Mm
Print speed
≤ 180 mm / s, normal 30-60 mm / s with a maximum print speed of 200 mm / s
compatible materials

ABS, PLA, wood
performance and print quality
build quality
features
EASY AND EASY TO USE
Pros :
The most outstanding 3D printer under $500.
Has a removable and upgraded surface layer that protects the 3D printer build plate from all sides, maintains a constant temperature and easily removes the printed model when cooled.
Has a more stable print bed thanks to a new 40 * 40 Y frame design.
Excellent energy performance.
Offers great room for improvement due to its open source nature.
Cons:
For a beginner, leveling the bed can be a challenge. For convenience, you will need to buy a tempered glass tablet as well as an automatic leveler.
Final take:
Creality Ender 3 Pro is the most outstanding 3D printer for its price. It features an updated version of the legendary Creality Ender 3 budget printer with some tweaks to improve its reliability. It boasts its new C-Mag magnetic print bed, which offers more flexibility. It has a textured surface that helps to adhere the first layer to the base and helps to remove the final product immediately after cooling. It provides a sufficient temperature of 110°C so that the material does not become too soft and brittle.
Another great thing about Ender 3 Pro is that it's a completely open source system that allows great updates and tweaks to be made and distributed to a wider user community.

It also offers a useful resume printing feature that allows users to easily resume printing immediately and from the last registered point in the event of a power failure or any other disturbance. Thanks to Meanwell proprietary power supply. This is a UL recognized power supply targeting the standard SPS market. Therefore, this printer is protected from sudden power surges.
With a decent printer build volume, detachable heated magnetic stand and power recovery mode, the Real Ender 3 Pro is an extremely phenomenal and versatile 3D printer at a very affordable price.
Check Price
2. 3D printer Anycubic Mega S
Technical characteristics:
98% only
Brand

Anycubic

195

build Volume

210 x 210 x 205 cu. Mm

Print speed

20-100 mm / s (recommended 60 mm / s)

Complex materials, compatible materials
HIPS, PETG, wood
performance and print quality
build quality
features
SIMPLE AND CONVENIENT TO USE
Pros :
Very convenient to use.
Emphasizes overall mechanical design compatibility with most filaments.
Offers a 3.5" TFT touch screen interface.
Features a patented microporous coating on the print platform for excellent adhesion during printing.
Supplied pre-assembled and easy to install.
Cons:
Not ideal for beginners as it needs to be set up before use, especially when it comes to cable routing and bed alignment.
Final take:
The Anycubic Mega S is one of the brand's newest models and reflects almost the same features as the Anycubic i3 Mega. It is equipped with a sensor-detector that alerts you when your spool runs out of thread. It is smart enough to prevent interruptions in the printing process.
A hanging spool holder has been added to the side of the 3D printer for ease of use. It also features a powerful mechanical design filament drive that is compatible with most filaments, reducing clogging and improving print accuracy.
To complete the 3D printing process, it includes a Titan extruder to help you with reliable extrusion. Best gear ratio 3:1 for the best combination of speed and accuracy. This update makes this model more compatible with flexible filaments such as TPU. In addition, the device includes a printing surface coated with a patented microporous layer that provides good adhesion.
Speed ​​at 200 mm / s)
Compatible materials
, TPU
EXPERTICTION and print quality 9000 EASY TO USE
Pros :
Features a unique motion system design.
Supplied with fused plug to avoid heat drip.
Features a V-shape and upgraded wheels that allow it to move quietly, smoothly and steadily.
Allows you to print models with high precision.
Includes a resume print feature that can be extremely useful in the event of repeated power failures.
Its semi-assembled 3D printer kit is really convenient to use.
Cons:
For those who are not experienced in assembling small CNC style devices, the instructions will be difficult to complete the task.
Final take:
The Creality Ender 3 boasts great features. Some of the things that deserve attention are its split design, industrial PCB and linear pulley system.
Compared to other 3D printers, the Creality Ender 3 offers a unique motion design among 3D printers under $500. Its X, Y, and Z axes are supported by small wheels that rotate as the printer moves. The movement is impeccable.
This results in smoother, quieter printing, and this is where this machine excels.
As for other features, technological advances in the extruder reduce the risk of clogging and ensure consistent and uniform extrusion during the printing operation. It also has a fast heating layer that reaches approximately 110°C in just five minutes, which is useful for printing on PLA materials. Combined with a printer nozzle temperature of 250°C, the PLA filament will remain smooth.
That said, there's no doubt that the Creality Ender 3 offers class, distinction, and several equivalent alternatives comparable to expensive 3D printers.
Offers more secure wireless file transfer with Wi-Fi 2nd generation.
Supports the 3D Cloud function, which allows you to store, edit, upload and print the status online, and create a large database of models.
Supplied with an easy to use calibration detection device to aid in alignment.
Its 3.5 inch full color touch screen provides easy operation with intuitive icons.
Cons:
Only uses PLA filament.
Not suitable for 1 kg thread spools.
Final take:
For young enthusiasts, students and newcomers to 3D printing, the Finder is best purchased as an initial investment. At a low cost, compact and smooth printing is achieved thanks to the best performance of the machine.
It features a 3.5-inch DH IPS full color touch screen with an intuitive smartphone interface. Through the screen, a number of settings can be made - from resetting to the origin, preheating the extruder, loading / unloading the filament, to the point of control and printing. It's also safe for kids to use due to its cool build plate, non-toxic PLA, and sealed print area.
The FlashForge Finder 3D Printer also features a retractable build plate that makes it easy to remove completed 3D prints from the printer.
It has an easy to use calibration detection system that helps with alignment. All you need to do is tighten or loosen the adjustment screws until the beep clicks, which indicates that it has detected a difference between the nozzle and the worktable and made sure the alignment is in the right place. Once the first point is aligned, the same operation is applied to the next two screw points. The printing operation is made easy thanks to the fact that clear instructions on the touch screen will guide you throughout the operation.
compatible materials

Metal, ABS, PLA, Steel, Polyvinyl Alcohol

9000

Custom

USES

Advantage :
Wide extruder temperature range and heated build plate.
Any form of filament can be used, including ABS and PLA, as well as more advanced materials.
Light enough for any table; It has a small footprint and a simple open frame design.
Compatible with Cura, Repetier and other applications on PC and Mac.
Includes USB connection and microSD slot for file transfer.
Features a 3.7" IPS color screen.
Cons:
The calibration procedure is slow and tedious. However, it will deliver great print quality if you don't spin it all the way up.
Final take:
Monoprice 121711 Select Mini 3D Printer V2 comes fully assembled and has been tested and adjusted by the manufacturer. Right out of the box, you just need to carefully evaluate if your print platform is already level, reload the included microSD card, fill in any filament, and start printing the pre-configured template.