3D printed bike frame
Canyon unveils sustainable concept 3D printed mountain bike prototype
0Shares
Bicycle manufacturer Canyon has debuted a concept 3D printed mountain bike prototype which aims to demonstrate a more sustainable method of bicycle production. 
Working with software and 3D printing service provider Materialise, Canyon 3D printed the bike's frame and fork as part of Bike Magazine Germany's 'Ride Green' campaign. The finished bike was showcased at the recent Cycle Show in London.
The Ride Green bike
The aim of the Ride Green project was to design a bike that is as sustainable as possible, with all its components being fully recyclable.
The materials used also needed to be reusable without compromising the quality of the parts produced, while reducing waste was another key goal of the project. 
Canyon was tasked with building the bike's cradle-to-cradle frame and fork, and settled on 3D printing as the most suitable, and sustainable, method of production. The firm enlisted Materialise's selective laser melting (SLM) 3D printing technology to fabricate the components in order to achieve the frame's desired unique shape. 
Materialise is no stranger to the bicycle sector, having deployed its technology to print 2,000 parts for fellow bicycle manufacturer Pinarello's Dogma F racing bike last year. In addition to achieving substantial weight reductions for a crucial seat clamp component for the bike, the company also created a full-service, customized production workflow for the project.
Canyon's 3D printed bike frame. Photo via Bike Magazine.
In order to meet the sustainability requirements of the project, the frame and fork were 3D printed from recycled aluminum powder.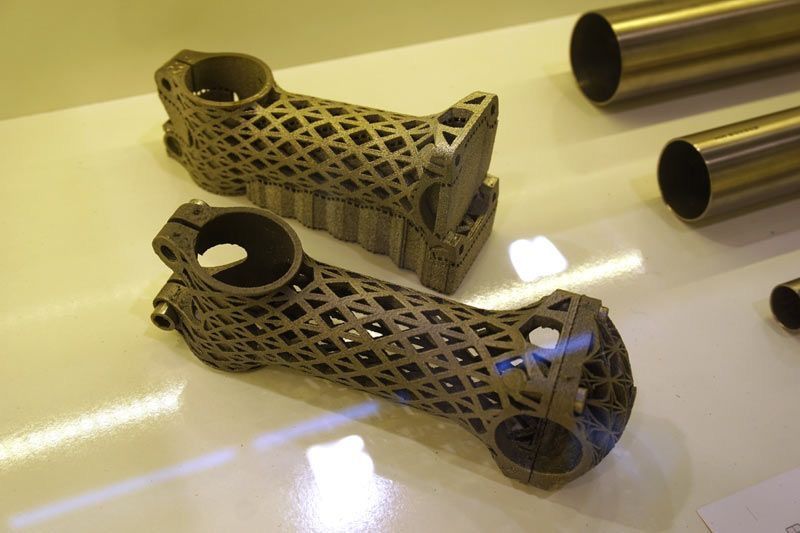 Canyon also wished to reduce the overall amount of raw material used in the fabrication of the frame, not only to improve the bike's environmental impact but also to lower the frame weight and provide performance benefits.
The frame is comprised of a skeleton that forms its structure, which is enclosed within an outer shell to provide additional protection and more desirable surface properties. 
The frame was 3D printed in three pieces, each taking around six hours to produce. Once printed, the frame and fork weighed just 2 kilograms. While Canyon says there are currently no plans for the bike to enter production, the project could potentially influence how the company's future models are designed and manufactured. 
The bicycle frame was 3D printed in three parts and glued together. Photo via Bike Magazine.
Boosting cycling performance with AM
Given 3D printing's ability to consolidate multiple parts into single lightweight components and produce components with previously unachievable geometries, the technology's benefits have been increasingly realized by bicycle manufacturers in recent years.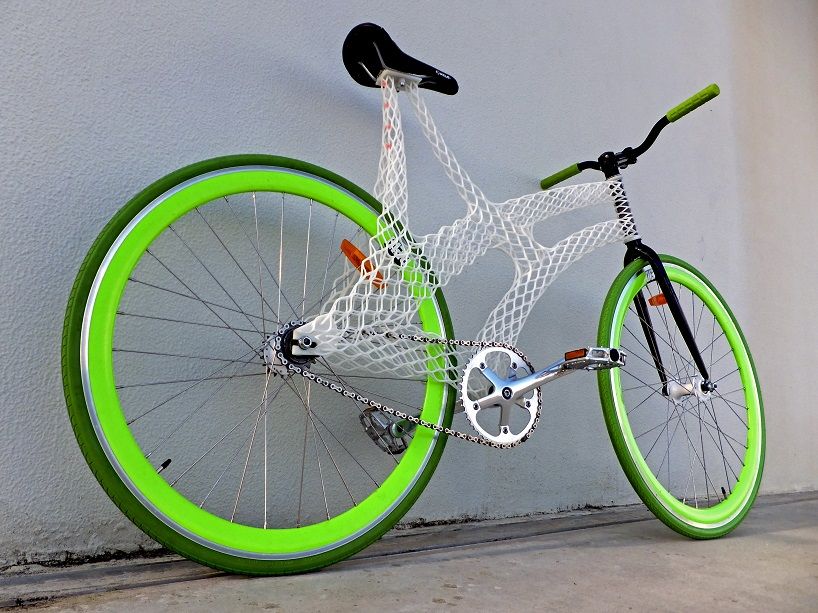 For instance, custom bicycle producer Sturdy Cycles has switched the production of its titanium bicycle parts to Headmade Materials' Cold Metal Fusion (CMF) technology, and has previously worked with RAM3D to print parts for its road bikes. British Cycling even enlisted Renishaw's help to 3D print aluminum and titanium parts for its new track bike on show at the Tokyo 2022 Olympic Games.
Meanwhile, some 3D printing firms have taken to kickstarter to launch their 3D printed bicycle components, such as Headmade Materials and Element22 who launched their jointly-developed novel Titanum 3D printed bike pedal design on the platform last year.
Elsewhere, the likes of Fizik and Specialized have used Carbon's DLS 3D printing technology to improve the weight and comfort of their saddles, while Stratasys' h450 machine has been used by DQBD to produce fully personalized 3D printed saddles that offer increased performance efficiency.
The Argo Adaptive short-nosed saddle's 3D printed lattice.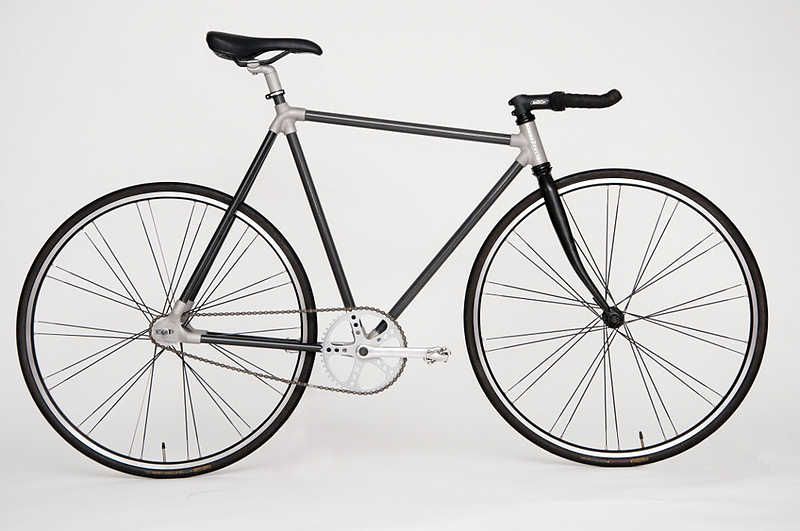 Photo via Fizik.
Subscribe to the 3D Printing Industry newsletter for the latest news in additive manufacturing. You can also stay connected by following us on Twitter and liking us on Facebook.
Looking for a career in additive manufacturing? Visit 3D Printing Jobs for a selection of roles in the industry.
Subscribe to our YouTube channel for the latest 3D printing video shorts, reviews, and webinar replays.
Featured image shows Canyon's 3D printed bike frame. Photo via Bike Magazine.
Tags British Cycling Canyon Carbon Cycle show 2022 Element22 fizik Headmade Materials Materialise Pinarello RAM3D Renishaw Ride Green campaign Specialized Stratasys Sturdy Cycles
Hayley Everett
Hayley is a Technology Journalist for 3DPI and has a background in B2B publications spanning manufacturing, tools and cycling. Writing news and features, she holds a keen interest in emerging technologies which are impacting the world we live in.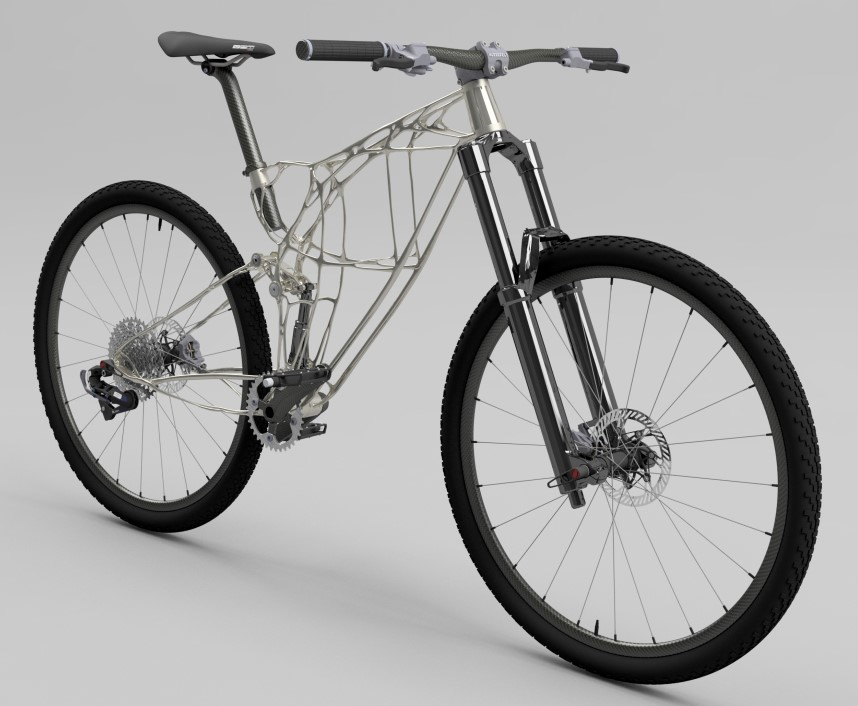 The Top Bicycles Made With 3D Printing
Published on September 22, 2020 by Aysha M.
As you know, additive manufacturing is starting to play an important role in the world of sports, where it allows to design custom-made equipment, more adapted to the morphology of each athlete: while focusing on increasing comfort, it also offers better performance. Cycling is undoubtedly one of the sports where 3D technologies are most widely used. The goal is to imagine a bike that is lighter, faster, more comfortable, while reducing manufacturing time and costs. At the moment, there is no such thing as a bike 3D printed in its entirety – it's more a matter of certain components, such as the saddle, frame, pedals, etc. So today, we present 12 bikes that have been made using 3D printing, be it commercialized products available on the market or just unique projects that demonstrate the advantages of the technology. The bikes are listed in alphabetical order.
The Bikes Available on the Market
Bike frame by Arevo
A startup from Silicon Valley, Arevo, has developed a six-axis robotic 3D printing platform capable of designing composite parts.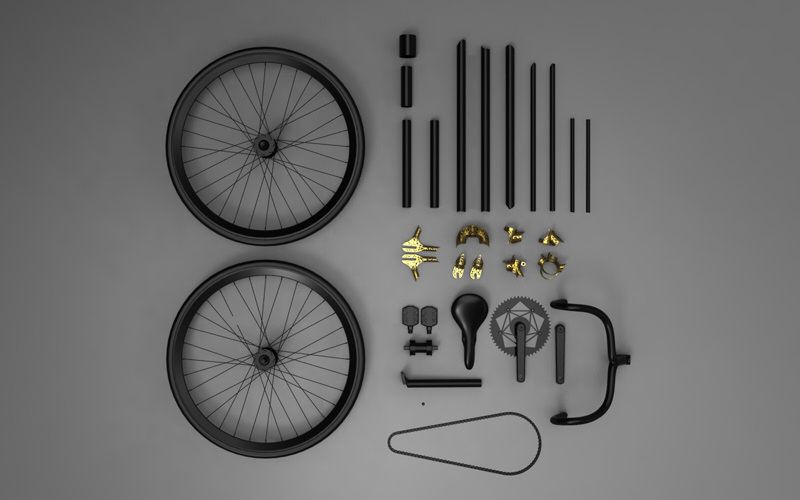 In order to demonstrate the advantages of its solution, it has imagined a 3D printed frame from carbon fibers. The part was produced in a single run and took only a few days to manufacture – the process normally takes 18 months from design to production. In particular, Arevo worked with Emery Bikes to create Emery One, the first electric bicycle with a 3D printed carbon fiber frame.
Atherton Bikes
Specializing in mountain bike production, Atherton worked with UK metal 3D printer manufacturer Renishaw to produce the titanium sleeves for its bike frames. These are connectors that connect the cylindrical tubes that form the frame of the two-wheeler. They were printed on the RenAM 500Q machine with four lasers. This saves Atherton time, but also allows the company to change the sleeve design if necessary – simply by modifying the CAD file and testing different designs.
Empire Cycles & Renishaw: 3D printed bike frame
Empire Cycles is a bike designing and manufacturing company from the North-West of England that offers innovative designs to mountain bikers and downhillers.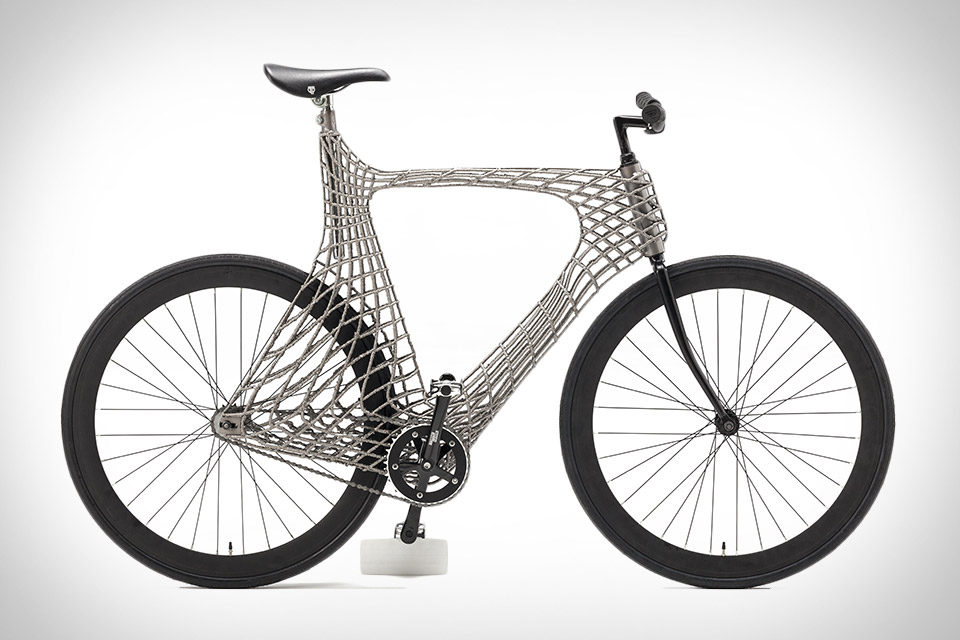 Working with UK metal AM manufacturer Renishaw, it optimized the design of its mountain bike using additive manufacturing technologies. By using topology optimization software, Renishaw was able to determine the most efficient place for material, removing it from areas of low stress until a design optimized for load bearing was generated. Therefore, the mountain bike frame's weight was reduced by 33%. The resulting mountain bike is lighter yet stronger, showcasing a 3D printed titanium alloy frame and seat post bracket. The frame was additively manufactured in sections using Renishaw's AM250 machine.
Specialized 3D printed bike saddles
Specialized Bicycles, based in the US, manufactures fitness, mountain and road bikes. In a recent collaboration with 3D printer manufacturer Carbon, the company redesigned the saddle, which it considers one of the most important parts of a bike's body. The challenge when it comes to the saddle is designing a part that can maximize rider performance while providing comfort and stability.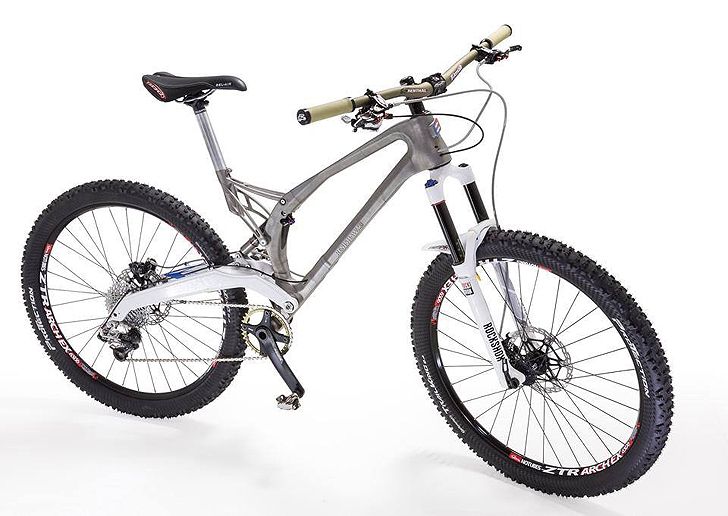 Using Carbon's technology, the company replaced the traditional foam saddle with an intricate elastomeric lattice structure that overcomes the limits of foam. Therefore the new design, in hand with the Carbon Digital Light Synthesis technology – which relies on a process of photopolymerization – allows riders to rebound quickly, disperse pressure and improve breathability.
Superstrata
Superstrata partnered with Arevo to design its 3D printed unibody bicycle, which the two companies jointly unveiled this summer. Typically, 3D printed bike frames consisted of several elements that are glued and welded together. The biggest disadvantage of that conventional manufacturing technique is that such frames can quite easily fall apart under pressure. Therefore, Superstrata decided to additively manufacture unibody bikes, using continuous carbon fiber technology. By using carbon fiber reinforced thermoplastics, Superstrata managed to achieve high impact-resistance and light weight – according to the company, one bike weighs less than 2 water bottles or 1,3 kg! Since Directed Energy Deposition (DED) 3D printing technology enables a perfect customization, each frame can be custom produced to fit the individual's body type.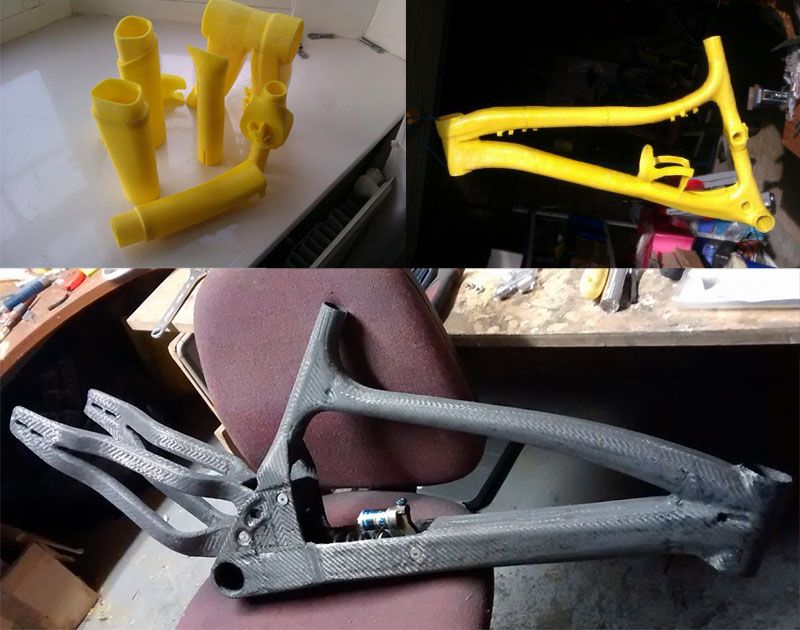 Urwahn Bikes
The German bike manufacturer, Urwahn Bikes partnered with Schmolke Carbon, specialized in the fabrication of carbon fiber bike parts, to develop a 3D printed frame for its racing bike. The first thing you notice on this bike is the copper plating on the 3D printed steel frame. Besides its shiny exterior, this racing bike has a geometric advantage over other bikes: the elastic suspension of the rear wheel gives the rider additional riding comfort without sacrificing bottom bracket stiffness. This effect is especially noticeable on longer rides and uneven surfaces.
Volkswagen x Kinazo electric bike
The Slovak company Kinazo worked with the automotive manufacturer Volkswagen to design its 3D printed electric bike, the Kinazo e1, which was first released in 2017. Kinazo aimed to create an electric bike with an integrated battery in the frame and its own system of controlling the electronics through a mobile application. They also wanted it to be customizable.
3D printing was a perfect solution, as it would allow not only customization but also for the frame to be produced in one piece! Therefore, Kinazo turned to Volkswagen, which, at the time, had one of the largest metal 3D printers in the world: a Concept Laser X LINE 2000R. With a build area of 800 x 400 x 500 mm, the machine was big enough to 3D print the bike's frame. The bike was prototyped in aluminum and weighed about 20 kilograms.
WX-R Vorteq
The British company Vorteq developed the WX-R track bike in collaboration with engineers from the bike manufacturer Worx. The aim of the project was to overcome air resistance. For the realization of the bike, they used the portable 3D scanning technology, Artec Leo, a CFD analysis and a CAD program. This enabled them to develop a high-performance carbon fiber bike that has already won two medals, three personal records, two national records and a new Asian record at the UCI Track World Championships in early 2020. In the future, the WX-R track bike will be used in sprint events at the Olympic Games!
The 3D printed bike projects
3D printed Arc Bike II
The Amsterdam-based company MX3D, which specializes in RAM (Robotic Additive Manufacturing) technology, has developed its own bike called the Arc Bike II.
It was 3D printed in 24 hours using WAAM (Wire Arc Additive Manufacturing) technology. Unlike its predecessor, which was made of stainless steel, this one is much lighter because it is made of aluminum. It should also be easier to customize since the design of the bike can be adapted to the proportions of the cyclist's body using generative design software. The bike is not intended to be commercially available, but is currently being used as a demonstrator of the benefits of WAAM technology.
BMW Balance Bike
A balance bicycle is a bike without pedals, chains or gears that helps children learn balance and steering. Dutch designer Roel van Heur has designed a model inspired by a BMW luxury motorcycle. The frame and forks of the Balance Bike were made of stainless steel, cut and welded into shape, and then hand brushed for an authentic finish. The Balance Bike also contains 3D printed parts, such as the fake fuel tank and fork sleeves. This small 3D printed bike is a personal project and shows the capabilities of 3D printing.
Freicycle
Developed by Dr. Dennis Freiburg, the Freicycle broke the Guinness record for the world's lightest electric bicycle in 2019. Weighing less than 7 kg, this bicycle features 3D printed parts, which helped to significantly reduced the final weight. The German mechanical engineer started with a model whose chassis weighed less than 1 kg and whose brakes were mounted on the rim. Pedals and brake calipers were an example of lightweight parts that could be integrated through additive manufacturing. The engine part often adds a lot of weight to a bike, so Dennis converted the main engine to a friction motor supported by the rear wheel. Being able to reach a speed of 48 km/h, the Freicycle is certainly an incredibly efficient solution.
3D printed bike by Sculpteo
Sculpteo has once again proven that it is capable of providing solutions to all obstacles that may arise by optimizing manufacturing processes. This time, they proposed one of the most visionary and original products: the first 3D printed bicycle that moves thanks to digital functions.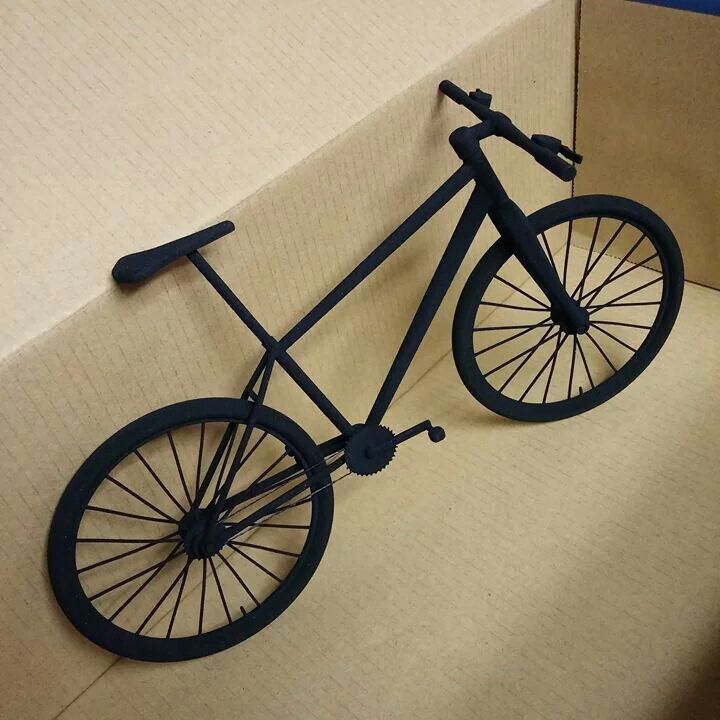 Sculpteo's engineers and managers took this bike on a trip from Las Vegas to San Francisco. The goal? To demonstrate the strength of the product as well as the advantages of the technology used. Their Agile Metal Technology was a key point of the project. It is a very complete software suite designed to facilitate and accelerate metal 3D printing projects. It can be considered today as the first 3D printing artificial intelligence application, created to help evaluate and anticipate all the problems that a project like this can encounter during the manufacturing process.
What do you think about this ranking of 3D printed bikes? Let us know in a comment down below or on our Facebook and Twitter pages! Don't forget to sign up for our free weekly Newsletter, with all the latest news in 3D printing delivered straight to your inbox!
Bicycle with personalized 3D printed frame
Home / 3D devices / Bicycle with personalized 3D printed frame
3D Printing Enthusiast James Novak's Bicycle Frame
This bike frame is like no other: it looks like a texture mesh, it's custom shaped, it's imprinted with the designer's name, and it's also 3D printed! The creator of this amazing frame is Australian industrial designer, university lecturer, student, scientist and 3D printing enthusiast James Novak.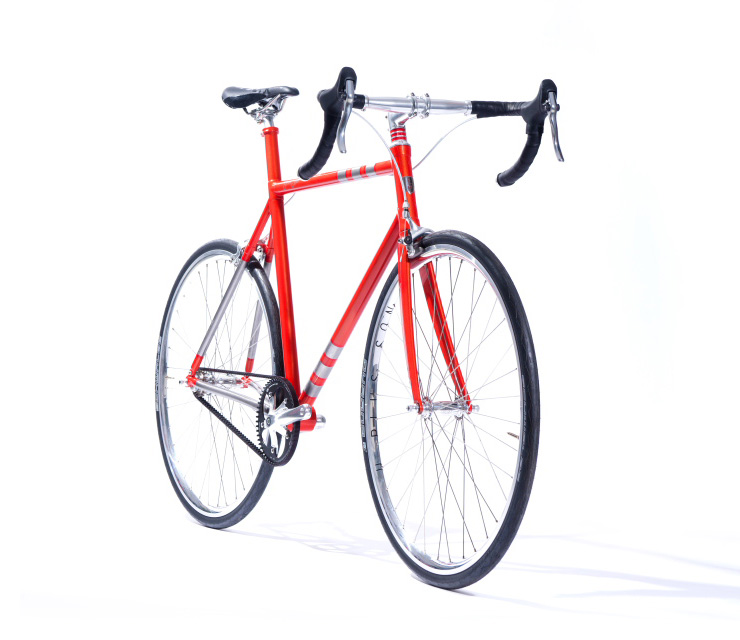 Let's briefly tell the story of his journey (on a bicycle) to the world of 3D printers.
Love from the first print
"I still haven't found the answer to the eternal question – who do I want to be when I grow up? Yes, I don't even know if I want to become an adult!". These kinds of thoughts are often swirling in the head of people with a creative mindset. After graduating in architecture and design, James began a career as an industrial designer, but even after completing a number of major projects, he never stopped thinking that he "always wanted something more, to do something that would really excite me and make me to head straight to work."
The moment of collision with this "something big" came, as they say, out of the blue. At Griffith University, to which James returned after completing his studies, now as a teacher, he learned about 3D printers and immediately became interested in them. "What struck me the most was the lab, filled with 3D printers of all shapes and sizes," says James.
"Therefore, along with my teaching job, I decided to get additional education in order to have access to these extraordinary toys. Next year, I plan to start work on a PhD in 3D printing technology with a focus on sporting goods."
What to do with 3D printers
Working on a 3D printed bicycle frame was an experiment for James to explore the unique potential of 3D printing technology.
"I wanted to make something that would take full advantage of the benefits that 3D printers give us. It's about being able to create unique, customizable products, such as bicycle frames, that are lighter and stronger thanks to their complex mesh structure. However, most of all, I would like my project to serve as a clear example of what kind of tasks need to be solved with the help of 3D printers," Novak says.
The bike frame he made is truly a great example of a customizable sports product - it's made to fit James' body proportions. What is required to make such a complex and large object on a 3D printer? Although James spent over 150 hours building the 3D model in SolidWorks over several weeks, he says it was not the most time-consuming part of the job.
According to him, most of the time and energy was spent searching for an answer to the question of what, in principle, can be done using a 3D printer, what are the technological limitations of this new production tool, and, finally, how can a bicycle frame be improved.
What's next, or where James's designs lead
After the bike frame was 3D printed with paintable resin at i.materialise, last July James brought it to a science conference in Brisbane, Australia. This science fair wasn't the final destination of James' bike frame journey - it's possible that you could own one in the future.
"During my experiments, I came up with a lot of interesting ideas for future development, so now I want to make a website where I plan to sell some of them. The site will be called edditive.com, and I hope that in the future it will be possible to purchase a customized version of the bike frame that I made, "says James Novak.
What subject could you rethink and improve using 3D printing technology?
Reinvent the wheel.
Engineers on how to print a bike on a 3D printer - May 16, 2022
Petersburg engineers on how to create a bike bed and print a bike on a 3D printer
FESTIVAL
"ZSD FONTANKA FEST"

Participate in a mass evening bike ride WHSD!

To learn more
Petersburg engineers on how to create a cycle bed and print a bike on a 3D printer
To learn more
Participate in a mass evening bike ride along the WHSD!

One step to Guinness. Unusual bicycles by Igor Baronas
Bicycle cabriolet, bicycle blender and bicycle bed. These are not objects from the future, but working models of two-wheeled vehicles, which have been created by St. Petersburg resident Igor Baronas for 45 years. He could already get into the Guinness Book of Records, but he is not interested in formalities. Coming up with and bringing the most incredible ideas to life is where the real excitement lies.

Print it out and go.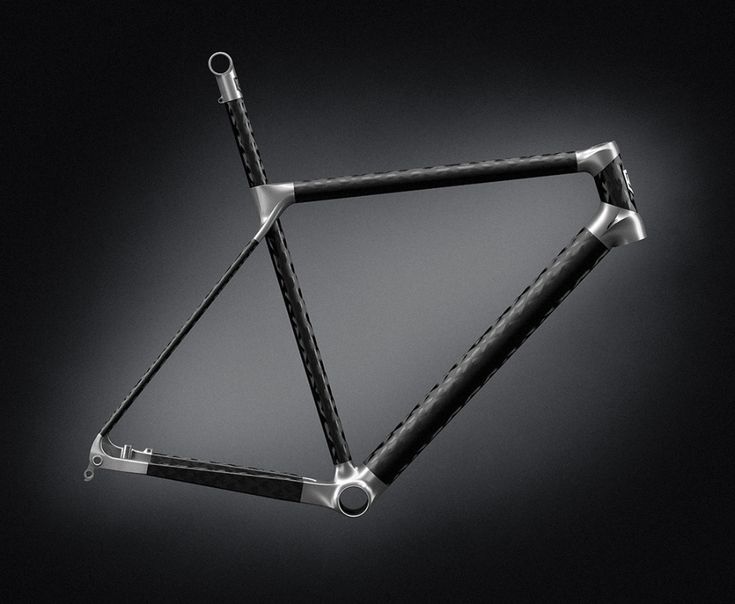 How 3D printers create bicycles and more
Bicycles and parts for them can already be made on a 3D printer. There are many examples on the net when inventors from different countries thus embodied an engineering idea and created an exclusive model for themselves. Will 3D printing replace traditional manufacturing? Danar Podkopaev from Gazprom Neft shares his opinion. The company founded its own 3D printing laboratory in St. Petersburg.
Read more
Read more
ONE STEP TO GUINNESS. UNUSUAL BIKES OF IGOR BARONAS
Igor Baronas perfected the first bicycle at thirteen. Children of 3-5 years old ride on these, and the teenager remade it for himself: he put the seat and steering wheel higher, the leading star was bigger - for speed. And I went in front of the astonished passers-by. Now no one is surprised by this, but then it looked very outrageous. Igor for a couple of years anticipated the boom in velomobile design, which began in the USSR in the 80s.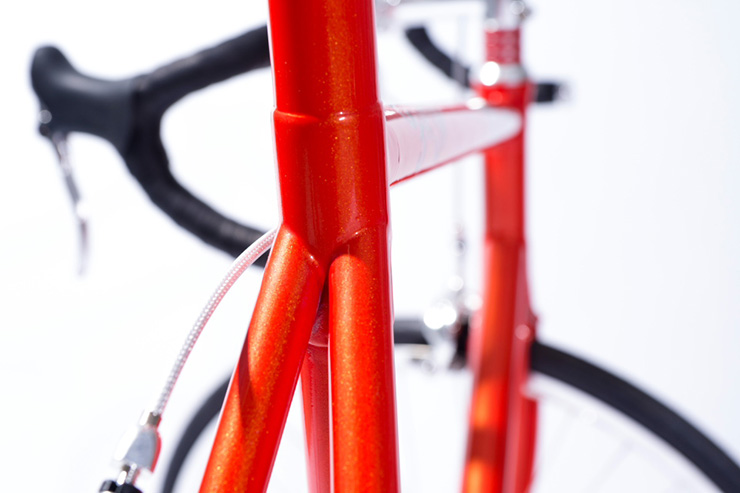 In total, bike designer has created more than 200 unusual models. The Petersburger also makes custom-made bicycles for adults, children, and people with disabilities. For example, tandems are in great demand, where a child and a parent travel together.
Only himself: Igor Baronas "conjures" in the workshop without helpers. Is that turning and polymer coating of the frame delegates to professionals.

High-performance sports are now using innovative materials such as carbon fiber, but for mass users it is much easier and more practical to produce two-wheeled vehicles from metal. I prefer steel.
Igor Baronas , bicycle designer
It can take a year or two from the birth of an idea to the implementation of . So, for example, a bright yellow bicycle convertible was created. The craftsman was inspired by the Lamborghini supercar, but he managed to buy only a rusty Zhiguli for spare parts, so the idea turned out to be a little different.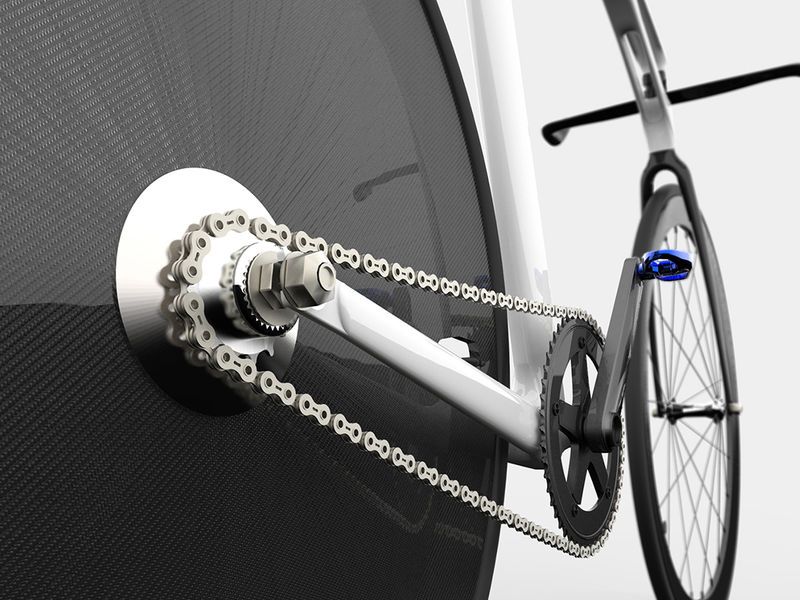 "I made a frame, installed wheels, a drive, seats, attached body parts and painted it bright yellow," the author describes the process of creating a convertible. Sometimes this miracle of technology can be seen on the streets of the city. It looks like a VAZ-2105 without a roof, but in fact there is no motor: the driver and passenger are pedaling.

The most interesting master considers the experience of creating the highest bicycle in the world - 6 m 43 cm. Like-minded people helped: they found a track - 50 meters between the trees - pulled a safety cable, fixed the bike. Igor ordered: "Let's go!" - and under the guns of video cameras started moving. As the Petersburger admits, it was not scary, but it was hard: the steering wheel vibrated due to the long steering stem, the wheel turned late, and it was difficult to keep the balance. But the extreme traveler drove the entire planned distance.
In a week, however, Igor can also construct something like that.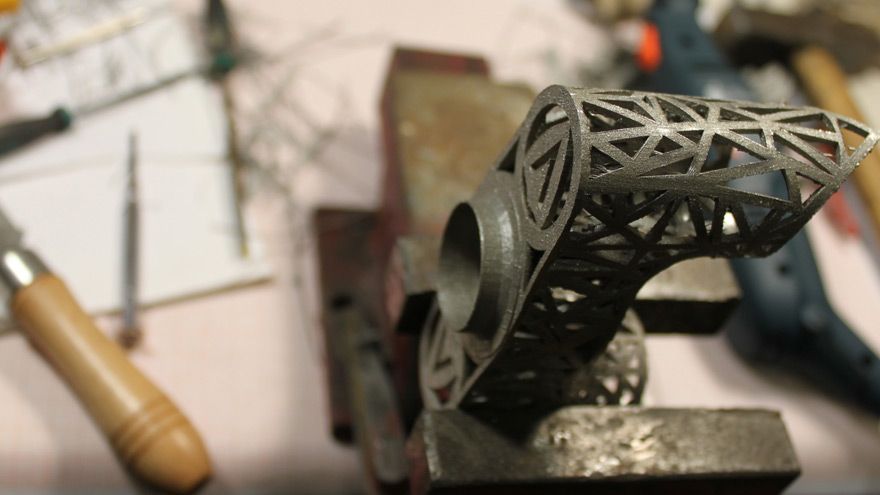 For example, for the finale of the show "I'm Almost Famous" on Channel One, he assembled a bicycle watch in record time: a two-wheeled vehicle in the shape of the chimes of the Peter and Paul Cathedral. This creation was a declaration of love for St. Petersburg.
In order to get into the Guinness Book of Records, you have to drive 100 meters. I rode half, I realized that on this bike you can ride a much greater distance. And I decided to limit myself to this, did not send an application. Adrenaline was enough for me.
Igor Baronas ,
bicycle designer
unusual Baronas bicycles are used in cinema, theater and circus, at show programs and festivals. Geography - from Minsk to Khabarovsk and Yakutsk. Replicas of vintage models have been created, for example, for the film The Duelist (2016) and the series Sherlock Holmes (2013). And in the St. Petersburg bicycle carriage, the coachman drove Cinderella around the stage at the Moscow Sovremennik Theater.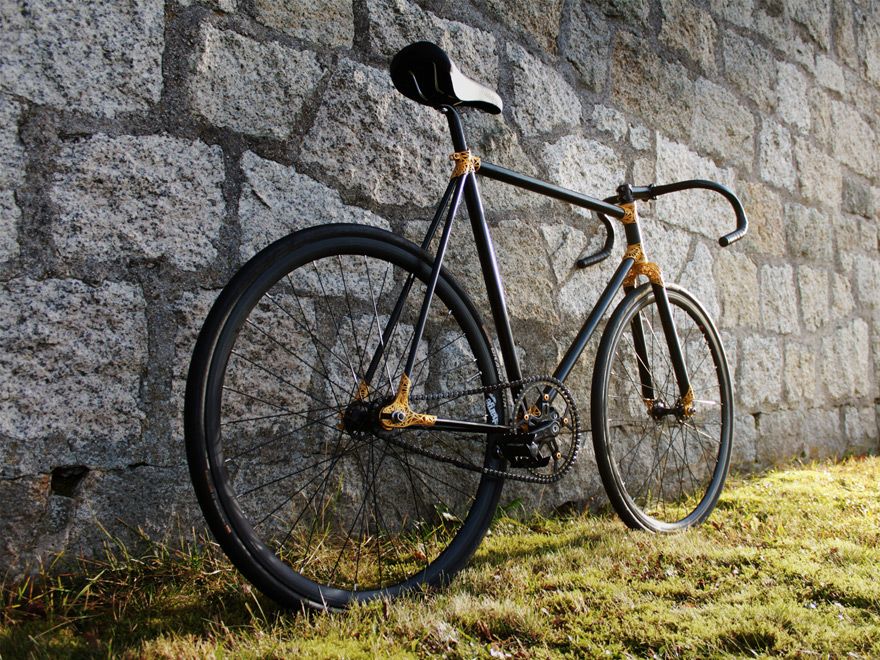 The Museum of Unusual Bicycles in Uglich has three exhibits by our hero. Among them is a bicycle charger for the phone. The pedals are spinning - the gadget is charging. A bicycle blender works on the same principle: while you are pedaling, a smoothie or cocktail is being prepared in a special bowl.
Of course, it would be good to organize a museum of unusual bicycles in St. Petersburg. I even thought about it, but all this fuss (to look for premises, a team) does not attract me. If someone takes up this, I will gladly support. Moreover, there are exhibits.
Igor Baronas ,
bicycle designer
Olympic champion Alexei Yagudin became the most famous tester of St. Petersburg bicycle designer's bicycles. Being a member of the jury of the show on Channel One, he enjoyed a ride on a 2-meter "Yellow Angel" and a microbike. But Nikolai Tsiskaridze did not dare, joking that he would master the 7-meter model in the final.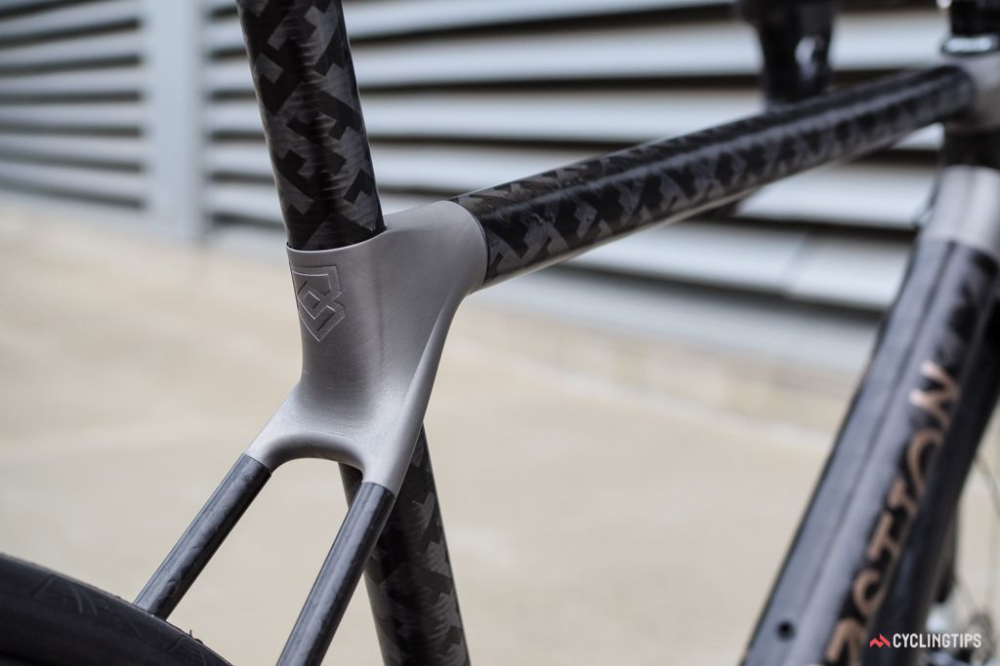 But I didn't have to: the giant bike simply didn't fit in the studio.

Baronas has only one unsolved problem : to put Petersburgers on bicycles. Why two-wheeled vehicles are mainly used by couriers, he wonders. It's faster and easier: no need to stand in a traffic jam and look for parking. And on a gym membership, on the contrary, you can save money: there will definitely be enough movement!
Bed bike
Blender bike
Phone charger bike
Spider bike

Point to hints and learn more
The most unusual bikes of Igor Baronas
on the second "floor" of the structure you can lie down
pedal and make a smoothie
ride and charge
large front wheel and small rear wheel wheels
similar to the chimes of the Peter and Paul Fortress
steering wheel - to the right, wheel - to the left
does not go fast, but looks spectacular
Back to top
PRINTED OUT AND GO.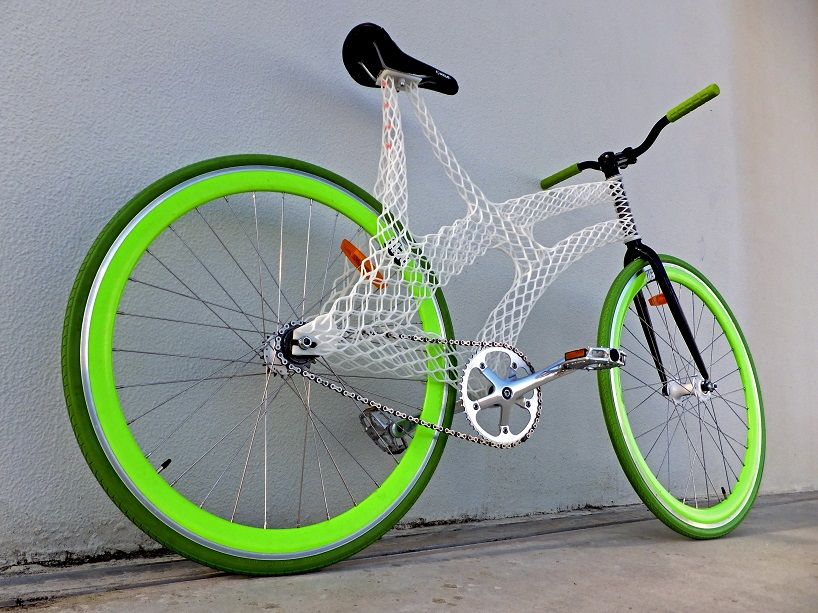 HOW 3D PRINTERS CREATE BICYCLES AND MORE
The market for consumer 3D printing of in St. Petersburg is quite developed: you can find a production facility to make some rare part for repairing a rare bike or upgrading a bicycle.
It's still expensive to make a bike on a 3D printer. Therefore, 3D printing is not a replacement for traditional production, but an addition to it. Bulk items such as bicycles are still cheaper to buy from the store.

Not only plastic: Metal 3D printing is also developing in our city. For this, laser cladding or selective laser melting technologies are used. This opens up great possibilities. And, of course, not only for the production of bicycles. Aircraft with printed parts are already flying all over the world. Apply three-dimensional printing and car factories.
You can print almost everything if you have a virtual model of the object - from furniture and car body parts to engine parts.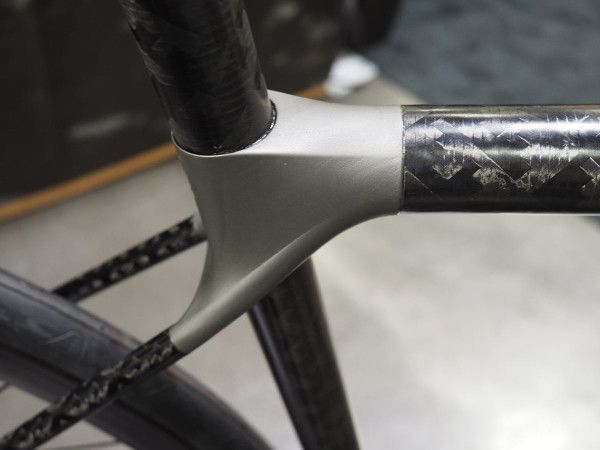 You can create entire houses this way - for this, a construction printer is used that prints with concrete. The technology is also actively used in medicine, where it can make a real breakthrough in the coming years.

Danar Podkopaev ,
head of 3D printing at Gazprom Neft
Petersburg has every chance of becoming the capital of 3D printing, the expert is sure. There are many technological and industrial companies here, a large transport infrastructure, shipyards - all these are customers who are interested in establishing and localizing 3D production in their hometown. It will help save on logistics and ensure independence from imports. It can take just a couple of hours from ordering a part to printing it and starting to use it.
Gazprom Neft's 3D printing laboratory is located in New Holland. In it we create new details. For example, engine blowing systems, generator blades, various gears. We printed the fastest order in the presence of the customer in an hour.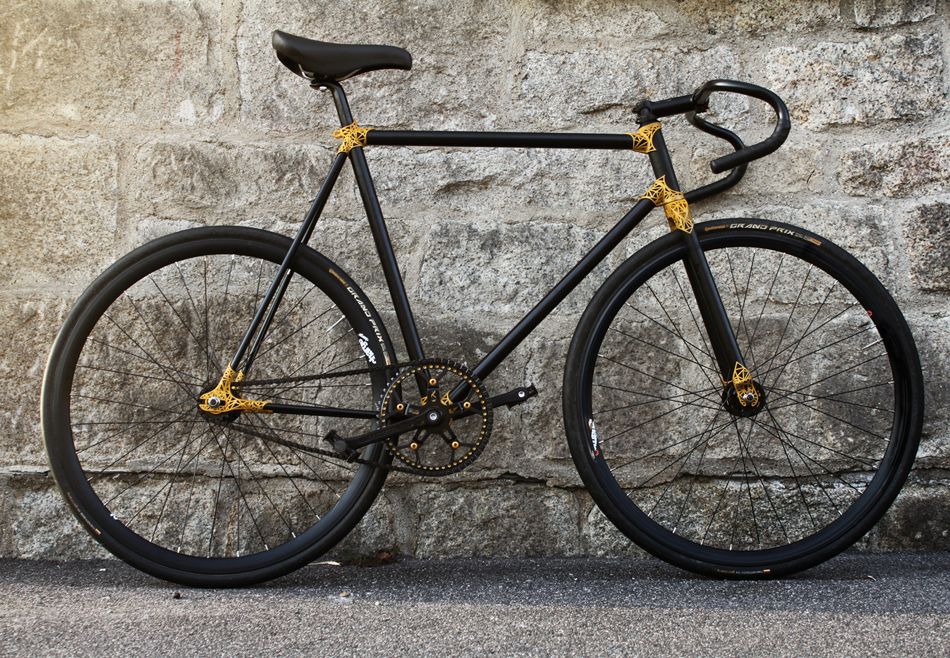 There are also very complex large-scale projects - the printer can work there without interruption for more than a week.

Danar Podkopaev ,
Head of 3D printing at Gazprom Neft
Dozens of enterprises Gazprom Neft from different regions is served by a laboratory in New Holland. These are the oil fields of Siberia, the factories of Moscow and Omsk. Parts printed in St. Petersburg have been working on icebreakers in the Arctic for more than a year. "When we expand our fleet of equipment, we do not exclude that we will be able to fulfill orders for 3D printing for other companies," says a representative of the corporation.
In St. Petersburg and Moscow there are universities , where they teach the specialty "engineer of additive technologies" (this is 3D printing). For example, in our Polytechnic University or Moscow Baumanka. A number of universities have a master's program in the direction of additive technologies - they take them there with a diploma in engineering, design or industrial design.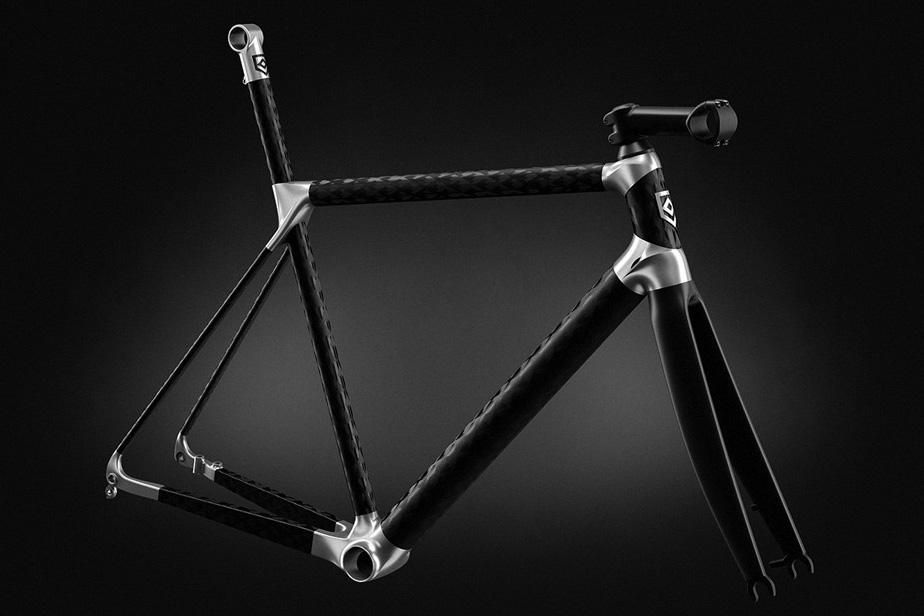 At Gazprom Neft, we also regularly recruit young professionals for internships and internships at our technology centers.
Danar Podkopaev ,
Head of 3D printing at Gazprom Neft
There are dozens of companies producing 3D printers in Russia. Printing materials are also Russian: plastics in powder form, filaments in the form of threads or coils. So the technology will develop at a rapid pace.
Back to top
Material prepared especially for Gazprom Neft

Fontanka.ru special projects
Author's routes and performance. Spend the "Night of Museums" according to other rules
Money in the head. How to learn to make money: advice from a psychologist
Wow effect. Pulkovo opened a modern space for fans of electronics
EXCELLENT stories. Petersburg business that continues to work in spite of everything.